28 teams in 28 days: Minot Minotauros
August 29, 2011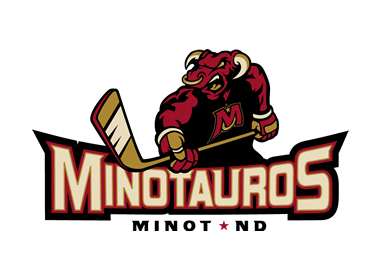 By Alex Kyrias, NAHL
Without having played a game yet in the NAHL the expansion Minot Minotauros have already been through so much. A devastating flood of the Souris River took hold of the city in late June this past summer and left thousands of people without homes. It was the biggest natural disaster Minot, North Dakota had ever seen. Over 4,000 homes were lost and had to be demolished and the flood left over 12,000 people with no place to call home.
Considering the team was announced less than three months earlier, it has had a direct effect on the Minotauros. "We were already behind the 8-ball a little bit as an expansion club, but the flooding hit home for everyone," said Minot head coach and general manager Ben Johnson. "Minot is a city that is resilient and hard-working, and everything that has happened thus far has had an immediate impact on our players. The floods were completely devastating, but I think it has brought all of us and the community closer together. It certainly puts things in perspective as we tried to build a hockey team."
As the Minotauros players filed into town for training camp, one of the immediate needs because of the floods, were for billet families. "I think it is one of the things people take for granted are how important the billet families are to our players throughout this entire process. We are talking about people whose homes have been decimated by the floods, but yet they asked us what they could do to help the players find a comfortable home," said Johnson. "The city and its citizens stepped up because they know this team is a part of their community and that really made us feel good, especially as a brand new team."
Johnson boasts an impressive resume both as a player and a coach, having guided the prestigious Shattuck-St. Mary's prep school to back-to-back national championships in addition to coaching in Europe. A Duluth, Minnesota, native, Johnson played several years of junior hockey himself and knows what he is looking for in his players for the inaugural Minotauros team. "I want players that are honest, hard-working and are willing to sacrifice. They may not be the best players, but they are going to be the ones with a lot of character and who want to get better," said Johnson. "They have to be good people in the community and be good people in general, willing to do the right things. We want a good team made up of cohesive individuals to make a unit."
Johnson said that despite the Minotauros being an expansion team this season, he expects positive results on the ice. "We are not going to be satisfied just being an average team. We want to finish towards the top of the division and compete for a National Championship," said Johnson.
So who will be the key players that hope to get the first-year Minotauros to the top? Johnson immediately points to NAHL veteran defenseman Ben Hughes, who played last season for the Corpus Christi IceRays and was their team captain. "He should play a big role in teaching they younger guys what playing junior hockey is like," said Johnson. Another veteran player that will no doubt be a fan favorite is Minot native Jadin Martin, who played for the NAHL's Austin Bruins last season. Joe Hebda is another forward with Canadian junior hockey experience, who Johnson says has the potential to be a top scorer for the team.
As for who will be leading the defense, Johnson says he is going to start with two goalies on a level playing field. Jake Hebda, who is the twin brother of the aforementioned Joe Hebda, is a junior hockey veteran and put up some great numbers for the Wisconsin Wilderness in the SIJHL. Tim Shaughnessy will be the other goalie. He played at Hill-Murray High School in Minnesota. Johnson is confident that both will be able to get the job done between the pipes. "We feel confident in both of them. They both put up great numbers in their respective leagues last year, so there is no reason to believe they can't come in and do it at the NAHL level as well." Along the blueline, Johnson didn't name any names, but commented that the Minot line-up will have defenseman who are in shape and can move the puck.
One of the biggest things a team can go through is adversity. The Minotauros have already had their share of it, which may give them an edge to open the season this year. In a division full of veteran NAHL teams, Minot will have their hands full is season #1, but should have a chance of making a splash especially with the support of their resilient community.
Next up in the NAHL's 28 teams in 28 days series, the New Mexico Mustangs.