50 Players, 50 Days: Andrei Rusakov
May 8, 2020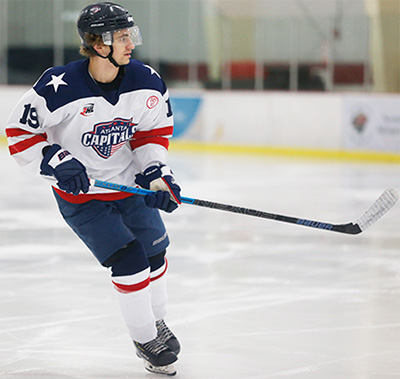 During the current and unforeseen cancelation of the 2019-20 season, the players in the NA3HL saw their seasons cut prematurely short. In some cases, players saw their junior hockey careers come to an end as well. However, the NA3HL got together a decided to highlight some of those players, who were born in 1999 and were in their final season of playing junior hockey.
As a result, we present a new series entitled: 50 players, 50 days
50 players in 50 days will select 50 players from each of the 34 NAHL teams this past season that were born in 1999, who are currently uncommitted, and deserve some recognition during their time spent playing and developing in the NA3HL. Over the course of the next 50 days, we will take time out to look at their accomplishments, review their season, and provide some background on their NA3HL careers. Players will be initially highlighted in alphabetical order by team. Enjoy!
Andrei Rusakov, Forward, Atlanta Capitals
A three-year NA3HL veteran, Atlanta Capitals forward
Andrei Rusakov
, 20, put up career-best goals and points totals in 2019-20 to help his team lock down second place in the South.
During his rookie season in 2017-18, the 6-foot-2, 185-pound native of Kherson, Ukraine played just 30 games, posting an impressive 9g-23a--32pts in that span. He thrived in a brief playoff appearance that season as well, with a goal and an assist in two games.
With his feet wet in the league, he returned for year two in 2018-19 with a whopping 24g-38a--62pts in 47 games -- his first of two straight seasons as Atlanta's highest scorer. Rusakov's sophomore season saw him earn his only bid to the Top Prospects Tournament, where he recorded one assist in three games The 2019 Fraser Cup Playoffs were again kind to Rusakov, as he logged a goal and four assists in four games.
Finally, the Ukrainian sniper capped off his Junior days with his best season yet, recording a career-high 26 goals, 37 assists for another career-high 63 points in 2019-20. In 116 NA3HL games, Rusakov recorded 59 goals and 98 assists, totaling 157 points.