50 Players, 50 Days: Duncan McGarrah
May 11, 2020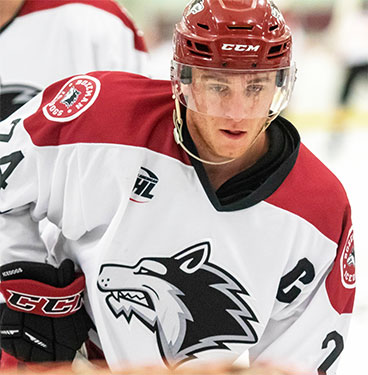 During the current and unforeseen cancelation of the 2019-20 season, the players in the NA3HL saw their seasons cut prematurely short. In some cases, players saw their junior hockey careers come to an end as well. However, the NA3HL got together a decided to highlight some of those players, who were born in 1999 and were in their final season of playing junior hockey.
As a result, we present a new series entitled: 50 players, 50 days
50 players in 50 days will select 50 players from each of the 34 NAHL teams this past season that were born in 1999, who are currently uncommitted, and deserve some recognition during their time spent playing and developing in the NA3HL. Over the course of the next 50 days, we will take time out to look at their accomplishments, review their season, and provide some background on their NA3HL careers. Players will be initially highlighted in alphabetical order by team. Enjoy!
Duncan McGarrah, Forward, Bozeman Icedogs
After spending parts of four seasons in the NA3HL, Bozeman Icedogs forward
Duncan McGarrah
, 21, closed out his Junior days with a career-best season as captain of his hometown team in 2019-20.
Standing 6-foot-1, 185 pounds, McGarrah entered the league during the 2015-16 campaign, playing 21 games for the Icedogs and recording four points. The Bozeman native then returned full-time in 2017-18, logging 10g-12a--22pts in 47 games during his first full season. The 2018-19 campaign saw him start the year with the Atlanta Capitals for 10 games, before returning to Bozeman for the remainder of the season. And despite seeing the ice for just 30 games in Bozeman that year, McGarrah thrived and put up his best season to that point, recording 15g-18a--33pts -- good for a share of fifth in team scoring.
Entering his final year in 2019-20, McGarrah was named captain of the Icedogs, and led by setting a strong example on the ice with career-best numbers -- 25g-40a--65pts in just 45 games. The always-improving McGarrah concludes his career on an upward trajectory with 51 goals, 76 assists and 127 points in 153 games played following consecutive career-best seasons.
The interruption in McGarrah's Junior career in 2016-17 saw him take the ice for Bozeman High School, where he notched 10 goals and 13 assists in 21 games on the Montana high school hockey circuit.