50 Players, 50 Days: Blake Spetz
May 12, 2020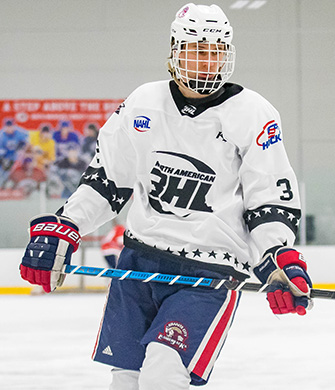 During the current and unforeseen cancelation of the 2019-20 season, the players in the NA3HL saw their seasons cut prematurely short. In some cases, players saw their junior hockey careers come to an end as well. However, the NA3HL got together a decided to highlight some of those players, who were born in 1999 and were in their final season of playing junior hockey.
As a result, we present a new series entitled: 50 players, 50 days
50 players in 50 days will select 50 players from each of the 34 NAHL teams this past season that were born in 1999, who are currently uncommitted, and deserve some recognition during their time spent playing and developing in the NA3HL. Over the course of the next 50 days, we will take time out to look at their accomplishments, review their season, and provide some background on their NA3HL careers. Players will be initially highlighted in alphabetical order by team. Enjoy!
Blake Spetz, Forward, Granite City Lumberjacks
Granite City forward
Blake Spetz
, 20, capped off a strong two-year career in 2019-20 by nearly tripling his goal-scoring output from his rookie year and putting up a stellar showing at Top Prospects in February.
Spetz, a 6-foot-0, 170-pound native of St. Michael, MN, joined a perennial contender in Granite City as a rookie in 2018-19, but carved out a solid role with 8g-19a--27pts in 39 games -- setting the stage for an even stronger second campaign. Spetz stepped up his game in a big way this season, averaging just shy of a point-per-game as he posted 21 goals, 21 assists for 42 points in 44 games.
Spetz' standout sophomore season saw him earn a place at the Top Prospects tournament in February, where he stole the show. In the three games during the event, Spetz logged three goals and two assists, and his five points tied for third-most among all NA3HL Top Prospects. His career comes to a close with 29 goals and 40 assists for an impressive 69 points in 83 games.
Prior to joining the Lumberjacks, Spetz was a star on the Minnesota High School hockey circuit, playing 69 games in three years for St. Michael-Albertville High. Putting up double digits in goals, assists and points each year, Spetz logged 35 goals, 53 assists and 88 points in his high school career before debuting with Granite City.