50 Players, 50 Days: Zach Smith
May 14, 2020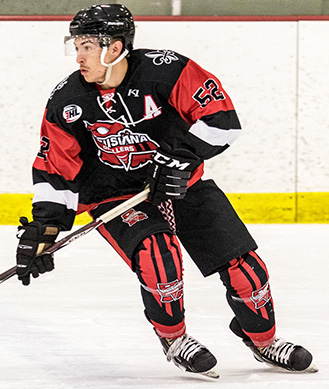 During the current and unforeseen cancelation of the 2019-20 season, the players in the NA3HL saw their seasons cut prematurely short. In some cases, players saw their junior hockey careers come to an end as well. However, the NA3HL got together a decided to highlight some of those players, who were born in 1999 and were in their final season of playing junior hockey.
As a result, we present a new series entitled: 50 players, 50 days
50 players in 50 days will select 50 players from each of the 34 NAHL teams this past season that were born in 1999, who are currently uncommitted, and deserve some recognition during their time spent playing and developing in the NA3HL. Over the course of the next 50 days, we will take time out to look at their accomplishments, review their season, and provide some background on their NA3HL careers. Players will be initially highlighted in alphabetical order by team. Enjoy!
Zach Smith, Defenseman, Louisiana Drillers
Following a comparably quiet rookie season, Louisiana Drillers defenseman
Zach Smith
turned up his offensive production in a big way, recording three straight seasons with at least 25 points and averaging a point-per-game in 2018-19.
The 5-foot-10, 163-pound native of Orlando, FL found the scoresheet with only assists in his first year, recording six helpers in the 2016-17 campaign. But with a year under his belt, Smith returned to Louisiana the following year and became an impact player on the blue line, posting 3g-23a--26pts in 45 games and earning a spot at the 2018 Top Prospects tournament.
Smith's success in his sophomore season emboldened him to post his best year to date in 2018-19, with 12 goals, 31 assists and 43 points in 43 games, as well as a +26 rating -- the first season-long plus-rating of his career.
He then closed out his career with another productive campaign in 2019-20, finding the scoresheet 31 times with nine goals and 22 assists in 40 games. His impressive NA3HL career comes to an end with 24 goals, 82 assists and 106 points in 175 games.