50 Players, 50 Days: Jacob Halvorson
May 19, 2020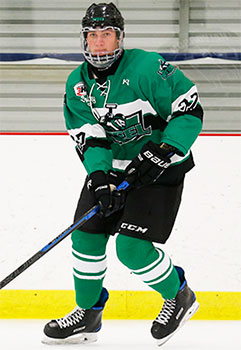 During the current and unforeseen cancelation of the 2019-20 season, the players in the NA3HL saw their seasons cut prematurely short. In some cases, players saw their junior hockey careers come to an end as well. However, the NA3HL got together a decided to highlight some of those players, who were born in 1999 and were in their final season of playing junior hockey.
As a result, we present a new series entitled: 50 players, 50 days
50 players in 50 days will select 50 players from each of the 34 NAHL teams this past season that were born in 1999, who are currently uncommitted, and deserve some recognition during their time spent playing and developing in the NA3HL. Over the course of the next 50 days, we will take time out to look at their accomplishments, review their season, and provide some background on their NA3HL careers. Players will be initially highlighted in alphabetical order by team. Enjoy!
Jacob Halvorson, Forward, New Ulm Steel
Jacob Halvorson
closed out his two-year NA3HL career in New Ulm with his best season to date in 2019-20, culminating in career-high goals, assists and points totals as his team's leading scorer and his first call-up to the NAHL.
Joining the Steel for his rookie season in 2018-19, the 6-foot-2, 190-pound native of Northfield, MN, stepped in as an immediate impact player. Notching 19g-23a--42pts in 47 games -- good for fifth in team scoring -- and earning a trip to the 2019 Top Prospects Tournament, Halvorson set the stage for an even stronger sophomore season in 2019-20.
Kicking off the new season with back-to-back three-point efforts, Halvorson cruised to a team-high 34 goals, 31 assists and 65 points with New Ulm this season. In November, the Chippewa Steel took notice and called him up for an extended Alaska road trip, where he potted his first NAHL goal on November 15 in Fairbanks. After packing so much success into two short years, Halvorson caps off his career with 53 goals, 54 assists and 107 points in 90 NA3HL games.
Halvorson came to New Ulm following a three-year career with Northfield High in Minnesota, where he served as captain in 2017-18. There, he played 73 total games and recorded 66g-63a--129pts, nabbing at least 20 goals in each individual season.