50 Players, 50 Days: Colin Day
May 20, 2020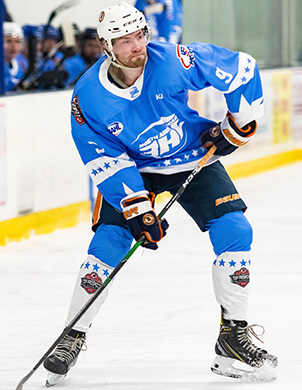 During the current and unforeseen cancelation of the 2019-20 season, the players in the NA3HL saw their seasons cut prematurely short. In some cases, players saw their junior hockey careers come to an end as well. However, the NA3HL got together a decided to highlight some of those players, who were born in 1999 and were in their final season of playing junior hockey.
As a result, we present a new series entitled: 50 players, 50 days
50 players in 50 days will select 50 players from each of the 34 NAHL teams this past season that were born in 1999, who are currently uncommitted, and deserve some recognition during their time spent playing and developing in the NA3HL. Over the course of the next 50 days, we will take time out to look at their accomplishments, review their season, and provide some background on their NA3HL careers. Players will be initially highlighted in alphabetical order by team. Enjoy!
Colin Day, Defenseman, Northeast Generals
Manning the blue line on one of the league's highest-scoring teams in 2019-20,
Colin Day
of the Northeast Generals made massive strides in the offensive side of his game this season to become an impact player and help his team top the Coastal Division as he closed out a two-year career.
Standing 5-foot-11, 175 pounds, the Bellingham, MA native joined the Generals ahead of the 2018-19 season. That year, he logged 2g-10a--12pts in 43 regular-season contests and an assist in four playoff games. With a year under his belt, Day returned for year two in 2019-20 with more comfort at the NA3HL level and it showed, as he sported an "A" on his jersey as a team alternate captain and recorded nearly a point per game with 6g-35a--41pts in 43 games -- good for third among the high-scoring Northeast defensemen. His defensive zone play improved as well this season, as his +/- rating swelled from a respectable +23 in 2018-19 to a whopping +71 in 2019-20. Topping things off, Day's stout statistics this season earned him a trip to Top Prospects in February, where he recorded an assist in three games. His NA3HL career comes to a close with eight goals, 45 assists and 53 points in 86 games.
Day bounced around a bit before moving up to the NA3HL, most notably hitting the ice with the Macomb Mavericks 18U in 2016-17, where he put up 5g-3a--8pts in 15 games.