50 Players, 50 Days: Jesper Hofling
May 21, 2020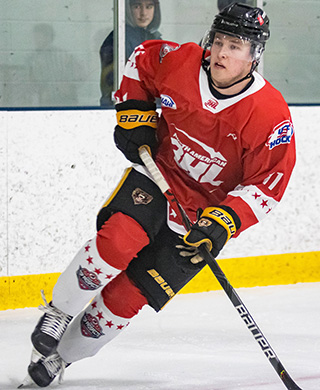 During the current and unforeseen cancelation of the 2019-20 season, the players in the NA3HL saw their seasons cut prematurely short. In some cases, players saw their junior hockey careers come to an end as well. However, the NA3HL got together a decided to highlight some of those players, who were born in 1999 and were in their final season of playing junior hockey.
As a result, we present a new series entitled: 50 players, 50 days
50 players in 50 days will select 50 players from each of the 34 NAHL teams this past season that were born in 1999, who are currently uncommitted, and deserve some recognition during their time spent playing and developing in the NA3HL. Over the course of the next 50 days, we will take time out to look at their accomplishments, review their season, and provide some background on their NA3HL careers. Players will be initially highlighted in alphabetical order by team. Enjoy!
Jesper Hofling, Forward, Rochester Grizzlies
Jesper Hofling's
first and only NA3HL season was a memorable one, as the 21-year-old Rochester Grizzlies forward posted 33 points to finish eighth in team scoring and earn a trip to Top Prospects in February.
Hitting the ice in North America for the first time, the 5-foot-10, 176-pound Hofling got off the mark early, recording a point in each of his first three games. He kept his momentum rolling throughout the season and thrived as a playmaker, ending with eight goals, 25 assists and 33 points in 46 games. Hofling's successful season earned him a spot on the Central Division Top Prospects team at February's event, where he posted one assist in three games there.
A native of Gavle, Sweden, Hofling grew up playing for Valbo HC at the J18 and J20 levels from 2015-2018, eventually spending time with Valbo's Division 1 and Division 2 teams in Sweden's adult hockey circuit just before joining the Grizzlies. In 125 games with Valbo at varying levels, Hofling recorded 17 goals, 29 assists and 46 points.