50 Players, 50 Days: Sandis Cook
May 22, 2020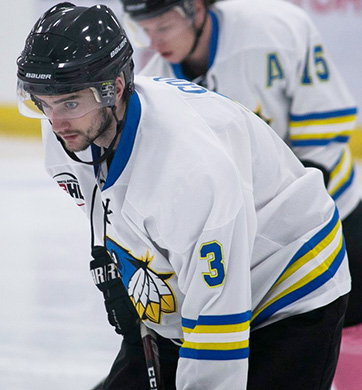 During the current and unforeseen cancelation of the 2019-20 season, the players in the NA3HL saw their seasons cut prematurely short. In some cases, players saw their junior hockey careers come to an end as well. However, the NA3HL got together a decided to highlight some of those players, who were born in 1999 and were in their final season of playing junior hockey.
As a result, we present a new series entitled: 50 players, 50 days
50 players in 50 days will select 50 players from each of the 34 NAHL teams this past season that were born in 1999, who are currently uncommitted, and deserve some recognition during their time spent playing and developing in the NA3HL. Over the course of the next 50 days, we will take time out to look at their accomplishments, review their season, and provide some background on their NA3HL careers. Players will be initially highlighted in alphabetical order by team. Enjoy!
Sandis Cook, Forward, Sheridan Hawks
Sheridan Hawks forward
Sandis Cook
, 21, closed out an impressive four-year, four-team NA3HL career in his hometown of Sheridan as part of the Hawks' inaugural season there.
The 5-foot-11, 160-pound Cook made his NA3HL debut in 2016-17, playing 37 games for the Billings Bulls and recording one assist. Next season saw him head to Bozeman, where he put up 2g-5a--7pts for the Ice Dogs. Cook then played just eight games in 2018-19, notching a goal and an assist for Yellowstone, before heading back home to Sheridan to join the Hawks in 2019-20 for their first season after moving from Wisconsin.
This year, he played a career-high 41 games and put up three goals and two assists. Overall, he posted 6g-9a--15pts in 109 games in his lengthy NA3HL career.
Cook's time in a Sheridan Hawks' jersey this season was not his first, however, as he played for the local high school that shared the same name. From 2014-16, Cook played 28 games for the high school Hawks and was quite productive there, notching a two-year total of 20g-17a--37pts while averaging more than a point-per-game in both seasons.