50 Players, 50 Days: Marquez Ginger
May 28, 2020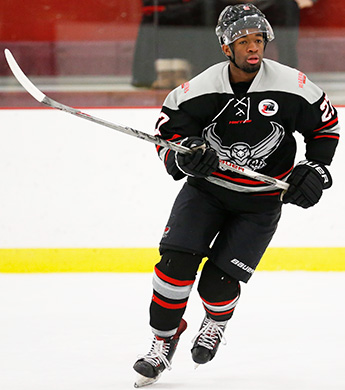 During the current and unforeseen cancelation of the 2019-20 season, the players in the NA3HL saw their seasons cut prematurely short. In some cases, players saw their junior hockey careers come to an end as well. However, the NA3HL got together a decided to highlight some of those players, who were born in 1999 and were in their final season of playing junior hockey.
As a result, we present a new series entitled: 50 players, 50 days
50 players in 50 days will select 50 players from each of the 34 NAHL teams this past season that were born in 1999, who are currently uncommitted, and deserve some recognition during their time spent playing and developing in the NA3HL. Over the course of the next 50 days, we will take time out to look at their accomplishments, review their season, and provide some background on their NA3HL careers. Players will be initially highlighted in alphabetical order by team. Enjoy!
Marquez Ginger, Forward, Willmar WarHawks
Following a shortened rookie campaign that saw him notch 10 goals and earn an NAHL call-up, Willmar Warhawks forward
Marquez Ginger
, 20, closed out his NA3HL career with an even stronger second season in 2019-20, nearly doubling his point production as Willmar's third-highest scorer.
The 5-foot-10, 175-pound native of Grovetown, GA hit the ice for only 22 games with Willmar in 2018-19, but made quite an impact with 10g-8a--18pts in that span, finishing as the team's fourth-highest scorer despite playing far fewer games than most of his teammates. In January 2019, Ginger earned a call-up to the Brookings Blizzard (now St. Cloud Norsemen) for seven games before returning to the Warhawks in February and finishing the year on a hot streak, recording eight of his 18 points that season in the final 10 games.
This season, Ginger got off to a hot start with four goals in his first four games, then settled into some steady production en route to 14 goals, 19 assists and 33 points in 46 games -- good for third on the team. His NA3HL career concludes with 24g-27a--51pts in 68 games.
Before climbing up to the Junior ranks, Ginger starred for the TPH Thunder 15U, 16U and 18U programs from 2014-18. He posted 22 goals, 26 assists and 48 points in 128 games in his four years with the Thunder.