50 Players, 50 Days: Will Yates
May 29, 2020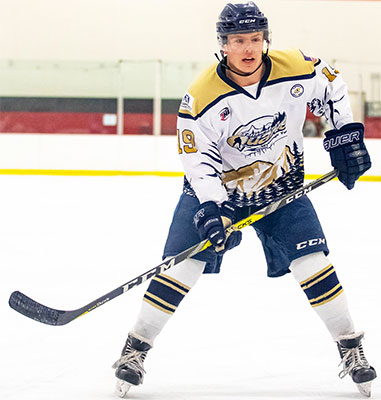 During the current and unforeseen cancelation of the 2019-20 season, the players in the NA3HL saw their seasons cut prematurely short. In some cases, players saw their junior hockey careers come to an end as well. However, the NA3HL got together a decided to highlight some of those players, who were born in 1999 and were in their final season of playing junior hockey.
As a result, we present a new series entitled: 50 players, 50 days
50 players in 50 days will select 50 players from each of the 34 NAHL teams this past season that were born in 1999, who are currently uncommitted, and deserve some recognition during their time spent playing and developing in the NA3HL. Over the course of the next 50 days, we will take time out to look at their accomplishments, review their season, and provide some background on their NA3HL careers. Players will be initially highlighted in alphabetical order by team. Enjoy!
Will Yates, Forward, Yellowstone Quake
Will Yates
, 20, closed out his two-year NA3HL career in 2019-20 with another consistent season in Yellowstone, notching a second straight 25+ point campaign and helping the Quake back into the Fraser Cup Playoffs after their absence last season.
Standing 5-foot-9, 175 pounds, Yates quickly adapted to Junior hockey as he ranked fifth in 2018-19 team scoring as a rookie, recording 13g-16a--29pts in 46 games. He carried his success into the 2019-20 season, posting another strong season with 14g-13a--27pts in 47 games, again finishing fifth among Quake skaters.
His efforts helped lead Yellowstone into the Frontier Division playoff picture, and he played a key role in their 2020 play-in round victories with two goals in two games to advance to the next round. He concludes his career with 27g-29a--56pts in 93 regular-season games.
A native of Laramie, WY, Yates spent four years with the Laramie Outlaws on the Wyoming high-school hockey circuit. There, he put up 46g-41a--87pts in 68 career games, averaging more than a point per game across three seasons from 2015-2018.