28 teams in 28 days: Odessa Jackalopes
August 31, 2011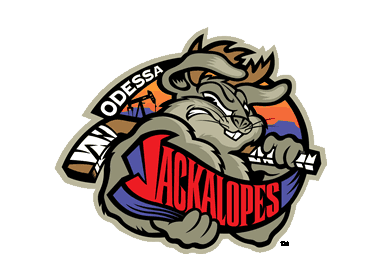 By Alex Kyrias, NAHL
What a difference a year makes. At this time last year, the Odessa Jackalopes were a professional team preparing for another season of professional hockey in the Permian Basin of Texas. Today, they are one of the newest members of the North American Hockey League, following in the footsteps of former professional markets like Amarillo, Corpus Christi, Fresno and New Mexico, just to name a few. Back on March 30th the NAHL announced the transfer of membership and relocation of the Owatonna Express to Odessa, Texas, for the 2011-12 season. With the move, the Jackalopes retained the rights of the Owatonna players, some of which did make the move to Odessa for the upcoming season, with more on them coming up later in the story.
Also staying with the team is head coach Paul Gillis, who spent over a decade as a player in the NHL, playing over 600 career games, and another decade coaching in the professional ranks. This isn't Gillis' first stint at the junior level however as he spent three years coaching major junior hockey in Canada. Assistant coach Matt Cressman also remains with the team. "We as a staff are looking forward to the change. It is going to be new and exciting as we try to figure things out and adapt to the Junior level again," said Gillis. "The players that we brought into Odessa for this season are accepting of the challenge, learning from us as much as they can and so far we have enjoyed the experience."
Although the team has yet to play a home game to introduce their fans to an entirely new level of hockey, Gillis says that so far the response has been very favorable from the community. "There are a lot of people that have been very, very supportive and glad to see hockey continue in the area," said Gillis. "The feedback from our intrasquad scrimmage this past weekend was positive. People were surprised at the speed, the tempo of the game and the size of the players. We hope they just give the players a chance and I think they will see an exciting product on the ice."
Heading into the draft and into summer tryout camps, Gillis made it clear on what he was looking for in his players for the 2011-12 season. "First and foremost, we want good people. We want guys who are good in the community, respectful to their teammates and to the fans," said Gillis. "We also wanted players with a tremendous work ethic. Some of it can be taught, but most of it is instilled earlier in life. We want them willing to learn and be eager to develop and become better."
Gillis did indicate that there are going to be some players that will be on the Odessa roster that were in Owatonna last season and he sees that as a good thing. "We are not only looking to them for some veteran leadership, but also to help us along as a staff to acclimate us to daily life in the NAHL," said Gillis. "It will be a big help when we start to travel and get out on the road because there are differences."
Those veteran players include Sheldon Taylor, Willie Faust, Bryan Mitchell and Darren Lapic. Faust, who was a 20-point product forward last year, who also played his best hockey at the end of the 2010-11 regular season. Taylor, is a hulking forward (6'4/205 lbs.), who has experience with both Amarillo and New Mexico in the South Division. Lapic is a good, young forward from Minnesota while Mitchell is a tough, good sized defenseman, who can scrap and be physical.
It won't be just the veterans that Odessa hopes to lean on. Gilllis also indicated some rookies he has been impressed with thus far. Heading that list is forward Jalen Krogman, who is a North American Prospects Hockey League (NAPHL) graduate with the St. Louis Selects. He led the team in scoring last season and will look to provide some scoring touch to the Odessa line-up. Garrett Van Tuyl is a forward from Minnesota who also may be able to provide some offense according to Gillis.
Although a #1 goaltender hasn't been decided, Odessa brought three to training camp (Connor Hellebuyck, Saxton Soley and Justin Davis) in the hopes of some healthy competition as they battle to be the one between the pipes when the regular season starts.
Odessa fans should have a reason to be excited about this team, which is a nice mix of veterans and rookies. The key now will be to see how they can adapt, especially at the beginning of the season, to the rigors of daily NAHL life. One thing is for sure, it will be a new exciting experience for everyone involved.
Next up in the NAHL's 28 teams in 28 days series, the Port Huron Fighting Falcons.