Danbury Colonials to become the Jr. Hat Tricks
August 24, 2020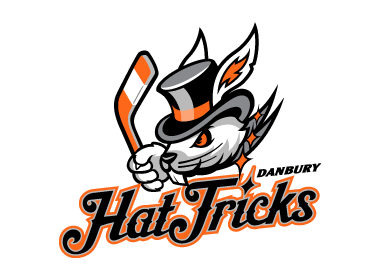 The Danbury Arena in Danbury, Connecticut will be united under one crest starting in 2020. The Danbury NA3HL team has officially announced it will be retiring the Colonials moniker and logo and will instead be adopting that of the Jr. Hat Tricks.
"It's definitely bittersweet to change our name, as there were a lot of electric firsts during the Colonials' year," explained NA3HL head coach Kevin Cunningham. "From winning our first game in the orange-and-black to the amazingly resilient finish by our players, there were so many amazing memories from that inaugural season."
The NA3HL's name change will now match the newly arrived NAHL Jr. Hat Tricks, who relocated from Wilkes-Barre/Scranton earlier this summer. The two junior teams mirror the branding of the professional Danbury Hat Tricks of the Federal Prospects Hockey League, who in their first season in 2019-20 were the top team in the Eastern Division.
"From a branding perspective, I think having one unified crest goes a long way towards uniting our city," commented Director of Communications Casey Bryant. "Our fans can rally around the collective Hat Tricks Hockey brand, and players have a visual for the pipeline we've established from juniors to the pros."
"Taking on the Hat Tricks name is an exciting step," said Cunningham. "It will be awesome for all of us to have the same crest on our chests as we look to make each other, Danbury Arena and our community proud on and off the ice."