3View: Alexandria Blizzard
September 16, 2020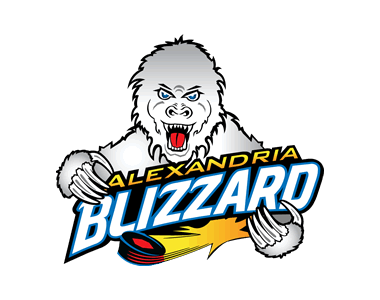 The 3View series will feature an in-depth look into all NA3HL teams in preparation for the 2020-21 season, with two teams being highlighted daily, leading all the way up until the start of the regular season. 3View goes in-depth into each NA3HL team and will include interviews with all the head coaches in the NA3HL, as they provide fans with their expectations and outlook for the 2020-21 season, including taking a look at their potential roster and their strengths as a team for the upcoming season. It will also take a look back on the 2019-20 season and how each team fared and what they accomplished. Best of all, 3View will provide the fans of the NA3HL with an inside look at their favorite team and what to expect.
Alexandria Blizzard
2019-20 Record: 24-18-5, 53 pts (4th in the West Division)
2020 Playoffs: Qualified
Head Coach: Jeff Crouse
2020-21 Division: West
Following a stellar 2019 playoff appearance which saw them knock off top-seeded Granite City, the Alexandria Lumberjacks looked poised to do more damage in the 2020 postseason.
Head Coach Jeff Crouse had his team rolling before the season came to an early close, and looks forward to keeping the good momentum going into the 2020-21 campaign.
"We ended the season 8-0-2 last year and we were really looking forward to the playoffs. We felt we were playing our best hockey at that time and we were hoping for another playoff run," he said.
Watch: Alexandria Blizzard Season Preview
"Hopefully we can get a strong start and that strong finish will carry over to this year."
A more cohesive approach to the defensive zone was key to that success last season, and Crouse is again honing in on that message as his team looks to keep pace in the tough West Division.
"We need to play better team defense. We starting doing that at the end of last season and it showed in our record," he said.
But with a new year comes new faces, and team-building has become a different kind of challenge this season. The Blizzard will certainly rely on experience in 2020-21, but Crouse says the full team is ready to make a charge up the standings.
"Overall, I like our depth at all positions, and it's just a matter of building some chemistry right away," he said, "Obviously early in the year you need to lean on your veterans to show you the way. They should be very excited to get playing and help lead the way from the end of last year."
Away from the rink, Alexandria committed four players (including alumni) to college last season, and tendered Caleb Strong to the Minnesota Wilderness of the NAHL.
Thanks to a hands-on approach, expect more of the same advancement from the Blizzard this year.
"We get all of our guys actively involved in their own recruiting — contacting schools and then following up. We are in a great location with lots of great NA teams and colleges in our area so that helps draw scouts to our games," said Crouse.
The Blizzard will also aim to impact more than their place in the league standings, as they look to give back to the Alexandria community and vibrant local hockey scene.
"We are very active off the ice and do many events," said Crouse. "(We) help with local events such as Halloween, Parades, Christmas parties, Special Olympics hockey and also multiple events with our local area youth hockey association."
Next up: Atlanta Capitals