September 17, 2020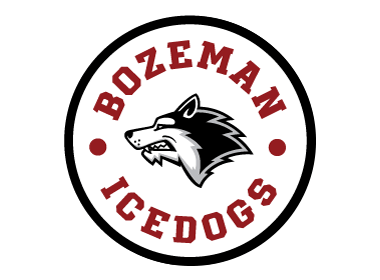 The 3View series will feature an in-depth look into all NA3HL teams in preparation for the 2020-21 season, with two teams being highlighted daily, leading all the way up until the start of the regular season. 3View goes in-depth into each NA3HL team and will include interviews with all the head coaches in the NA3HL, as they provide fans with their expectations and outlook for the 2020-21 season, including taking a look at their potential roster and their strengths as a team for the upcoming season. It will also take a look back on the 2019-20 season and how each team fared and what they accomplished. Best of all, 3View will provide the fans of the NA3HL with an inside look at their favorite team and what to expect.
Bozeman Icedogs
2019-20 Record: 39-7-1, 79 pts (1st in the Frontier Division)
2020 Playoffs: Qualified
Head Coach: Rainer Londino-Green
2020-21 Division: Frontier
After suffering first-round playoff defeats in three of their first five years in the NA3HL, the Bozeman IceDogs posted their best-ever regular-season record in 2019-2020 and seemed poised to make noise in the Fraser Cup Championship picture before the COVID-19 pandemic hit.
Head Coach Rainer Londino-Green took over coaching duties from his assistant role midway through the 2019-20 campaign, and is looking forward to keeping the good momentum going into his first full season as the bench boss.
"Last year's team was awesome and in the early days of training camp with our new group we've talked a lot about the expectations that we have based on the performance of last year's team. This offseason as a staff we wanted to build from the net out. Playing a well-rounded game means a lot to us, and team defense is definitely going to be stressed to this group. Everything we do this year in the offensive zone, neutral zone, or defensive zone will be done as a unit of 5 guys," he said.
Watch: Bozeman Icedogs season preview
It will take a special team to replicate the 2019-20 IceDogs — winning 39 of 47 games is no small task — but Londino-Green is confident in both the personnel already in Bozeman and those new faces coming soon.
"We are trying to build from the net out. I expect rookie goaltender Evan Wittchow to come in and be a huge piece for us between the pipes. On the back end we have veteran guys like Kadyn Fennell, and Max Schumacher who I'll look to for leadership on and off the ice. Also on the back end we have a second year 2003 birth year JD Schemelzenbach who I expect to take huge strides in development, and a rookie defenseman named Justin Hayward who is going to play a huge role in the team's success. Up front we have guys like Luke McKay, Tae Evans, and rookie Hunter Maschke that will help us generate offense," he said.
Londino-Green's focus extends beyond the rink as well — as his players learn and grow on the ice, they'll do the same off the ice as well.
"For myself and the Bozeman Icedogs organization, our goal is always to develop players into better hockey players and young men," he said, "Obviously wins and losses are important to us, but we're also trying to make an impact not only on the community but on these young men's lives. Hockey is supposed to be fun, a great way to learn life lessons, and also a great way to grow as young adults. In April if we can look back as a coaching staff and an organization and say that we positively affected the life of a young adult, then that's a huge win for us. There's a lot that goes into developing players on and off the ice, and we do our best to do both."
Such a focus on development provides ample opportunity for player advancement as well, something the IceDogs put a heavy emphasis on.
"As far as advancing guys to the next level that's the main goal with the season. As an organization we have an unbelievable team of people behind the scenes that provide the coaching staff, and team with great quality and fully edited video. As a coaching staff it's all about networking, promoting, and trying to give our players an opportunity to get to the next level," said Londino-Green.
Championship teams have a habit of catching lightning in a bottle at times, and that can't happen without strong community support — even during the uncertainty of COVID-19. Londino-Green is making sure his IceDogs continue fostering a strong relationship with the local fans and greater region of Bozeman.
"Being a staple in the Bozeman community is a huge focus of ours. They give us all the opportunity to pursue our dreams, while providing us with one of the most picturesque and inviting cities in the US. We plan on being involved a lot at the youth level this year. Growing the game of hockey in the state of Montana and the city of Bozeman is a huge goal for us as an organization, and I expect us to make a huge impact this season," he said.
With a coach ready to make an impact in his first full season, one of last season's top teams looks geared and ready to inject some championship hopes into the city of Bozeman.
Next up: Butte Cobras