3View: Danbury Jr. Hat Tricks
September 18, 2020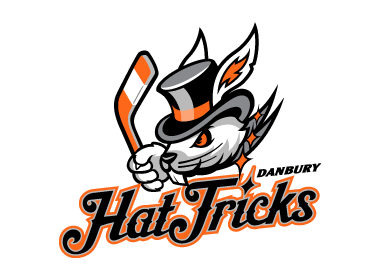 The 3View series will feature an in-depth look into all NA3HL teams in preparation for the 2020-21 season, with two teams being highlighted daily, leading all the way up until the start of the regular season. 3View goes in-depth into each NA3HL team and will include interviews with all the head coaches in the NA3HL, as they provide fans with their expectations and outlook for the 2020-21 season, including taking a look at their potential roster and their strengths as a team for the upcoming season. It will also take a look back on the 2019-20 season and how each team fared and what they accomplished. Best of all, 3View will provide the fans of the NA3HL with an inside look at their favorite team and what to expect.
Danbury Jr. Hat Tricks
2019-20 Record: 24-22-1, 49 pts (2nd in the Northeast Division)
2020 Playoffs: Qualified
Head Coach: Kevin Cunningham
2020-21 Division: East
The Danbury Jr. Hat Tricks (formerly Colonials) came into the NA3HL last season and posted a very successful inaugural season, notching 24 wins and finishing just two points out of the division's top spot.
This season, Head Coach Kevin Cunningham wants to build on positives from last year while repairing some of the deficiencies that kept Danbury from taking top spot in the division.
"Our depth was not a strength for us last season, so we knew this was an area that we need to address. Two of our top forwards and our top goaltender form last season advanced to college hockey, but we are fortunate to have nine returners, many of whom played key roles for us last year. We used the draft and tender processes to add players that we believe can play at the pace we want to and bring the competitiveness that we want all of our players to bring to the rink every day. We believe that our defensive corps are very deep and talented and that our forwards can spearhead a dynamic skilled attack. We will look for a goaltender to emerge from a talented group," he said.
There will be big shoes to fill in the Jr. Hat Tricks' net during 2020-21 after Shane O'Brien departed for NCAA D3 school Nichols College this year, but Cunningham is still confident in his options.
"Alex Fernandes returns in goal after a strong finish to last season. He is a big presence in net and had some very strong outings down the stretch last February and March. Landon Palmer is an athletic goaltender who battles. We believe that goaltending will be a strength for our team again this season," he said.
Watch: Danbury Jr. Hat Tricks season preview
The "nine returners" coming back to Danbury are no fringe figures, either, as several key players in all areas of the rink look set to join some new faces as well for another year in black and orange.
"We are thrilled to welcome Connor Lefkof, Cole Madzey and Ryan Wojciechowski back from our defensive corps from last season. They will all play a vital role in our team defense as well and serve as leaders for our team. They will he joined by Kade Bacon, Seamus Carolan and other talented newcomers in the back that we believe we can rely on," said Cunningham.
"Up front we were able to bring back Kolby Donovan, Nate Mastrony, Dylan Webber and Wesley Westendorf, each of whom had success last year that we will look for them to build on this season. One of the first things we did this offseason was trade for Kyle Madigan, who adds high-level skill, strength and some additional swagger to our forward lines. Some newcomers to watch up front include Dylan Harbour, Jake Oldham and Nicholas Rogers, among others."
There's plenty of cause for excitement about having an experienced group in Danbury, and Cunningham looks forward to the opportunity to create success for his players on and off the ice.
"We have an older team in many respects and this helps shape our expectations for the team and its members," said Cunningham. "We will look to advance our older players to college hockey and we are fortunate to have some younger guys who we believe have the ability, potential and drive to hopefully advance to the NAHL next season. We plan to strive toward these goals by putting our players in an environment that consistently challenges them and supports their development."
The track for development and advancement in Danbury strengthened over the summer, as it was announced that Danbury Arena will play host to a new NAHL team in 2020-21, also named the Jr. Hat Tricks.
"Player advancement is one of our three core tenants. We stress player experience, development and advancement every day in everything that we do. Having the NAHL team in our building certainly enhances this environment. Our players see that level every day. They can gain an acute appreciation for what it takes to get to and succeed at that level. The addition of the NAHL team and Coach McCreary and his staff also bolsters an already vibrant hockey culture at Danbury Arena where we also have our FPHL Hat Tricks team as well as strong high school and youth hockey programs in the facility," said Cunningham.
With two Junior teams and an FPHL club now in Danbury, the hockey culture is as potent as ever. And the Jr. Hat Tricks are committed to showing support to the same community that cheers them on every weekend.
"A number of our players will work with our Arena's Hockey Director, Nick Garofalo, and his staff assisting with Learn to Play Clinics as well as the Western Junior Colonials youth program. Our team will also engage our local community with some high school hockey clinics and interactive events at some of our home games," said Cunningham.
"We will also take part in community outreach initiatives to support and connect with our local community. These will include working with the Red Cross, SPCA, Danbury Hospital and local youth groups. Our players will also take part in October Saves and Movember to raise money and awareness for cancer research and men's health, respectively."
It's shaping up to be another strong hockey year in Danbury, and with a veteran core and plenty of advancement opportunities, the Jr. Hat Tricks figure to be a power player on and off the ice in the NA3HL's new East Division.
Next Up: El Paso Rhinos