September 19, 2020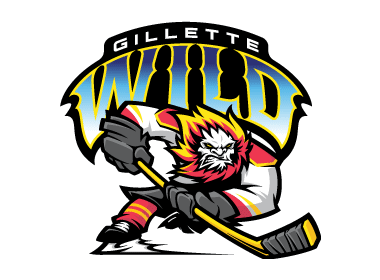 The 3View series will feature an in-depth look into all NA3HL teams in preparation for the 2020-21 season, with two teams being highlighted daily, leading all the way up until the start of the regular season. 3View goes in-depth into each NA3HL team and will include interviews with all the head coaches in the NA3HL, as they provide fans with their expectations and outlook for the 2020-21 season, including taking a look at their potential roster and their strengths as a team for the upcoming season. It will also take a look back on the 2019-20 season and how each team fared and what they accomplished. Best of all, 3View will provide the fans of the NA3HL with an inside look at their favorite team and what to expect.
Gillette Wild
2019-20 Record: 20-27-0, 40pts (5th in Frontier Division)
2020 Playoffs: Qualified
Head Coach: Ethan Hayes
2020-21 Division: Frontier
By traditional metrics, the Gillette Wild have had quite a successful tenure in the NA3HL. With playoff qualifications in five of six seasons, the Wild have made their mark on the Frontier Division.
But Head Coach Ethan Hayes, who took the reins as bench boss back in January 2020, is interested in more than just traditional success going forward.
"I think success (this year) will be measured on a few different levels. I would like to see all the players that are aging out after this year have at least one option to play hockey while they're getting a higher education through college. I think another level of success would be to win 35 games — some folks like to pretend that winning isn't that important, but saying that is kind of like saying 'you don't have to be good at your job.' The most important measure of success for me, though, is that I'd like to be able to say that each and every one of my players developed positive life skills that they will carry throughout their lives in the future that they didn't have before they came to be apart of our program," he said.
On the ice, Hayes' focus is on expanding roster depth after a tumultuous 2020 saw the squad numbers dwindle. Off-ice and locker room culture play a big part in team success, and Hayes wants to see the Wild come together and build some championship chemistry.
Watch: Gillete Wild season preview
"Last year's team was pretty thin; they didn't have a full roster for most of the year. The boys also went through some rough roads with a coaching change. I'm pretty confident in our ability to play the game, but I think the biggest element we need to develop this year is a team-first attitude and making sure the boys all have that positivity in the locker room," he said.
In order to ensure that kind of culture shift takes hold organically, it takes not only team leadership, but a full organizational commitment to be successful. Even without letters on every jersey, Hayes is counting on each player to take ownership of his role on the team.
"As far as leaning on players, of course there will be those natural leaders that stand out in times when the team needs it, but I would like to be confident in our entire team instead of just relying solely on one individuals talent," said Hayes.
As for off-ice success, player advancement is king in Junior hockey. Hayes looks forward to the opportunity to not only help his players develop good habits and the right attitude for the next level, but also to improve his own tactics to promote his players in the best way possible.
"Advancing our boys to the next level is our ultimate goal. I think I need to focus on reaching out to the college programs my players are interested in so that their staff is aware we have guys interested in playing for them, but I think the boys attitude, effort, and performance, day-in and day-out is the most important when it comes to advancing them," he said.
In addition, part of off-ice player development is learning to contribute to one's community through different means. Hayes and his staff plan to key in on giving back this season — something that has long been a staple of the Gillette organization.
"This program and the ownership of this program has always been big into giving back to the community and making sure the boys that come through here learn that great communities come from great volunteers," he said.
"We have plans to volunteer our players every night that the little guys and girls are out for "Learn to Skate" -- they call it Blades and Aves here. Unfortunately, with COVID-19 being an issue this year, we're going to be very careful about what we do as far as putting our players in high traffic, heavily crowded areas."
As a largely successful program through six years in the NA3HL, the Wild have established themselves well in the league. Now, Hayes and his team will look to take the next step towards greater success in several areas this season.
Next Up: Granite City Lumberjacks