3View: Granite City Lumberjacks
September 20, 2020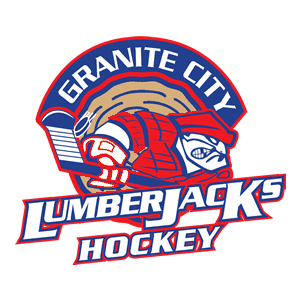 The 3View series will feature an in-depth look into all NA3HL teams in preparation for the 2020-21 season, with two teams being highlighted daily, leading all the way up until the start of the regular season. 3View goes in-depth into each NA3HL team and will include interviews with all the head coaches in the NA3HL, as they provide fans with their expectations and outlook for the 2020-21 season, including taking a look at their potential roster and their strengths as a team for the upcoming season. It will also take a look back on the 2019-20 season and how each team fared and what they accomplished. Best of all, 3View will provide the fans of the NA3HL with an inside look at their favorite team and what to expect.
Granite City Lumberjacks
2019-20 Record: 33-13-1, 67pts (2nd in West Division)
2020 Playoffs: Qualified
Head Coach: Bradley Willner
2020-21 Division: West
Looking around the NA3HL, you won't find many better-pedigreed teams than the Granite City Lumberjacks.
Entering their 10th season in the league, the three-time champions look as dangerous as ever, ready to lock horns with West Division rivals in hopes of adding a fourth title to their trophy cabinet.
"I think our goal every season is to contend for the West Division Championship. That starts with improving every day and becoming a close-knit team," said Head Coach Bradley Willner.
No matter who departs to college or higher levels of Junior hockey each season, Willner's Lumberjacks remain a perennial power out West. That kind of success starts with defensive responsibility, and the rest comes next, according to Willner.
"Team defense is always something we take pride in. We only have one returning defenseman so we will focus on that early in the season," he said.
Watch: Granite City Lumberjacks season preview
With a young blue line corps, Willner will be counting heavily on veteran voices up and down the lineup to instill the Granite City culture throughout the roster.
"We will lean on our returning players to guide the new guys early. We need good leadership from our veterans to instill team discipline and work ethic upon the entire group. Players like Carson Simon, Cody Dias, Cameron Cromwell, Noah Bissett, Nick Richert and Troy Dahlheimer must answer the call," he said.
Filling such big holes in the lineup certainly isn't ideal, but it's a point of pride for Willner knowing that his players consistently earn their chances at the next level year in and year out.
After seeing some top players like Ryan Pogue and Bailey Sommers move on to the NCAA this season, the new leaders in Granite City have a clear path to their own advancement.
"We are in constant contact with colleges promoting our players. Past players' success at the next level makes it easier for the current players to move onto college. College coaches know what kind of player they are going to get from us," said Willner.
And of course, consistent success does not happen without fantastic community support. The Lumberjacks have a strong fanbase, and Willner says his team looks forward to returning the special support they receive.
"We like to be out in the community helping with local charities and love helping our fans at events they bring to us. We are a big Lumberjack family," he said.
A new season always brings some unpredictability, but with Willner at the helm and a strong cast of returners and new talent, the Lumberjacks are set for another strong season.
Next Up: Great Falls Americans