September 25, 2020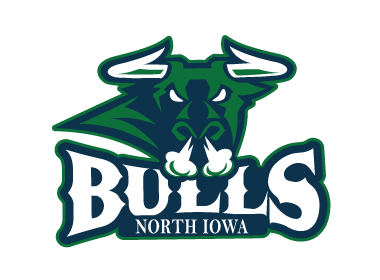 The 3View series will feature an in-depth look into all NA3HL teams in preparation for the 2020-21 season, with two teams being highlighted daily, leading all the way up until the start of the regular season. 3View goes in-depth into each NA3HL team and will include interviews with all the head coaches in the NA3HL, as they provide fans with their expectations and outlook for the 2020-21 season, including taking a look at their potential roster and their strengths as a team for the upcoming season. It will also take a look back on the 2019-20 season and how each team fared and what they accomplished. Best of all, 3View will provide the fans of the NA3HL with an inside look at their favorite team and what to expect.
North Iowa Bulls
2019-20 Record: 38-7-2, 78pts (1st in West Division
2020 Playoffs: Qualified
Head Coach: Todd Sanden
2020-21 Division: West
Entering their 10th season, the North Iowa Bulls have established themselves as a premier organization in the NA3HL. With three championship victories, six division titles and a playoff appearance in every year of their NA3HL existence, the Bulls are a model of consistency in the league.
And yet, Head Coach Todd Sanden knows that the West Division offers no time for respite — without your "A" game, it's easy to fall behind. From on-ice talent to front office staff and billet families, the Bulls only accept the best.
"Competing in the West Division of the NA3HL is challenging enough but trying to consistently stay near the top of the standings requires a lot of work from dedicated players, their families, staff, and scouts. Our community brings their best to our team as well with billet families opening their homes and supporting our guys to the many volunteers who make our environment one of the best in junior hockey to play in. As far as specific recruiting areas, it's our goal to try to maintain a high level of performance at all positions. With this in mind, it's important to personally see all or most of the players we bring in before they get here," he said.
Last season was set to see North Iowa push for a fourth championship. They finished atop the West Division, put on some fantastic performances at the Showcase in December against other top teams in the league and were cruising at the end of the year.
"We consider last year a great success at the team and organization level but with a bittersweet end due to COVID-19. Finishing the season with 78 regular-season points and on top of the always tough West Division was a great accomplishment for our team. The 78 points were good enough for a fourth seed overall finish, 4 of those 78 points were earned against two teams who finished with higher point totals in different divisions of the NA3HL. Our players were in playoff mode with a few weeks left in the regular season and I believe ready for a strong push towards the Frasier Cup," said Sanden.
The key to much of North Iowa's success has been a glut of experience throughout the roster each season. Looking ahead to this season, the Bulls will have two steady figures between the pipes and a healthy dose of veteran presence throughout the lineup.
"Veteran players have always been a cornerstone of our overall team success. We lean hard on those guys because they know our goals and expectations and have survived a year of our processes. Don't get me wrong, we value every player in our group and this year we will expect many first year guys to play big roles on our team. Working from the net out we have two returning goaltenders, 3 returning defensemen, and several returning forwards. These players will provide the foundation for our team's success and give support and guidance to our incoming players," said Sanden.
With North Iowa's on-ice success also comes individual achievements for older players. The Bulls saw a stunning 12 current and three former players advance to college last season, including 12 to the NCAA.
Watch: North Iowa Bulls season preview
Teams with advancement like that don't luck into it — it takes a special culture within the organization to prepare players for success at the next level, and it takes those players consistently fulfilling their potential to shine a light on North Iowa as a breeding ground for high-end talent.
"We work very hard for our guys to get them NAHL and collegiate opportunities. It starts with Associate Head Coach Mark Hicks and my experience of over 50 years combined coaching junior hockey. In that many years, you build solid relationships and trust with coaches that you are trying to get them players that will help them win. When those players do help the programs we send them to, it cements those relationships and many coaches will return here to get more players," said Sanden.
And college isn't the only place that former Bulls shine — the NAHL has seen former North Iowa standouts come through the league on their way to an NCAA D1 school on an annual basis.
"We have helped 40+ players earn college opportunities in the last 3 years with three of those players earning NCAA Division 1 Scholarships through advancement to the NAHL. In that same span of three years, 27 North Iowa players have earned call ups, tenders, or draft selections in the North American Hockey League. Staying in constant contact with coaches and our willingness to let players go to NAHL teams during the season has been extremely beneficial to our players in their development process," said Sanden.
Of course, with the kind of organizational success the Bulls have had, the Mason City community has embraced the team, showing appreciation by creating one of the top home game environments in the NA3HL.
The Bulls are eager to return that show of support through whatever avenues are available.
"Our team is blessed to play in one of the best markets in all of junior hockey! Of course, we take pride in our community involvement and historically volunteer between 400-600 hours each year with various organizations and causes. Obviously, local youth teams are part of those hours given back by our players and they enjoy the opportunity to mentor young players and help with their development," said Sanden.
Nothing in sports is ever truly predictable. But with a steady veteran core and an experienced and successful coaching staff, the Bulls look ready for yet another title-hunting season in North Iowa.
Next Up: Northeast Generals