3View: Northeast Generals
September 25, 2020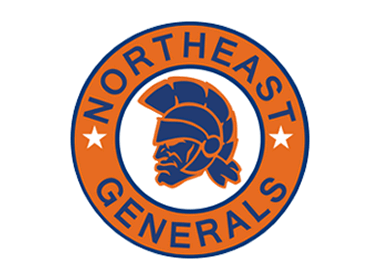 The 3View series will feature an in-depth look into all NA3HL teams in preparation for the 2020-21 season, with two teams being highlighted daily, leading all the way up until the start of the regular season. 3View goes in-depth into each NA3HL team and will include interviews with all the head coaches in the NA3HL, as they provide fans with their expectations and outlook for the 2020-21 season, including taking a look at their potential roster and their strengths as a team for the upcoming season. It will also take a look back on the 2019-20 season and how each team fared and what they accomplished. Best of all, 3View will provide the fans of the NA3HL with an inside look at their favorite team and what to expect.
Northeast Generals
2019-20 Record: 40–6-1, 81pts (1st in Coastal Division)
2020 Playoffs: Qualified
Head Coach: Darryl Locke
2020-21 Division: East
Few teams have caught lightning in a bottle like the Northeast Generals did in 2019-20. With a top line that finished first, second and third in league scoring by a wide margin and a final placement just one point shy of the league lead, the best season in Northeast's NA3HL history seemed a safe bet to end with at least a glimpse at the Fraser Cup.
But make no mistake, this was no fluke run. Since joining the league from the NA3EHL in 2016, the Generals have made the playoffs every year and steadily improved their regular-season record, rising from 24 wins in their inaugural season to 27, 33 and finally a stunning 40-6-1 mark last year.
"Last year was a special group. We obviously had the big line that did a lot of damage and set records but we are most proud of the fact that from last year's roster we have 2 players on NAHL rosters, 3 players playing NCAA hockey, 1 playing pro hockey and many more moving up to Tier 2 hockey in Canada. Having said that, we need to celebrate last season's team but once the puck dropped at this year's training camp we moved on. Our goals are very simple every year: Move kids up and win games. We have a proven track record of both and we look forward to this year being no different," said Head Coach Darryl Locke.
Obviously the biggest key to the Generals' dominance last season was the indomitable play of their top line of Kolye Bankauskas, Stephen Gerbis and Carson Asper, who finished with 138, 109 and 103 points, respectively — a minimum 16 points ahead of the fourth-leading scorer with 87.
Bankauskas, in particular, caught fire last season. His 69 goals marked a new NA3HL single-season record.
But that was then, and this is now. With all three players having earned a spot either in the NAHL or a college team, this year's Generals are looking ahead to another exciting opportunity in 2020-21.
"We are excited to watch both Kolye Bankauskas and Carson Asper with the NA Generals, and the 3rd member of that line our Captain Stephen Gerbis excel at Morrisville State. This year, there is no chance we can score the same amount of goals as last year, but this roster is deep. It is young, but has talent. We need to focus on putting goals on the board and keeping goals out of our net. We are very confident in our top 9 forwards and top 4 D but we need to help develop out the rest of the roster to contribute. We may have to grind out wins early but the goal is to win the division and move on to the Fraser Cup and I feel with hard work we have that team. And we all know Bryan will make moves if we need to get better," said Locke.
One of the true markers of success at this level is where players go from the NA3HL and what kind of impact they have there. Beyond the aforementioned three, the Generals have the unique distinction of having had each player that aged out last season earn an offer from an NCAA school, and have developed a reputation as a fantastic starting point for Junior standouts.
"We are really proud of our ability to move kids up and on. We had 4 kids play NA games last year, 18 kids practice with NA teams. All of our (1999 birthyear players) got NCAA offers, 3 chose that route, 1 is trying to walk on and 1 decided to play pro back home in Finland. Having an NA team in the same building certainly helps, but we also have good relationships with most teams in the NAHL and those guys have been great about giving our guys a shot. We will continue to showcase our players, reach out to coaches and most importantly develop our players on the ice in order to get them ready for the looks (from NAHL and college teams) that we will get them," said Locke.
Looking ahead, Northeast's top line certainly stole headlines last year, but the depth of the Generals' roster really shone through when needed. Now, it's up to many of those depth players to lead the way during the new campaign.
Locke looks forward to a steady group of forwards…
"We return a good group up front with Captain Nick Wracker (21 goals, 22 assists, 43 points) who we will lean on to set the tone. We also have Tyler Kaminski (24 goals, 38 assists, 62 points), Drew Schemmel (11 goals, 11 assists, 22 points), Ben Pizzimenti (5 goals, 14 assists, 19 points). Payton Felix played a few games last year, but lit it up with 60 points for the U18 Generals. And newcomer forwards we expect to have a big year are Nick Obourn and Nolan Merulli who bring speed to the group. Plus, we have more talent that we think will develop and contribute."
…defensemen…
Watch: Northeast Generals season preview
"On the blue line, we return two-year player and Assistant Captain Deacon More (10 goals, 34 assists, 44 points), we traded with the Gillette Wild for Jacob Kaminski (11 goals, 25 assists 36 points) and add U18 Generals standout Austin Crisp. We need some guys to step up on the backend like new defenseman Sean Loftus, Braden Owen and Kas Moncheck to name a few."
…and goaltenders to lead his team in 2020-21.
"And in net we have 2 new goalies Espen Reager and Kyle McGuire who were both standout MA High School players but need to adjust to the new level," he said.
Away from the rink, the Generals look to be an institution in the Attleboro area.
"Our organization from top to bottom requires all players to be very involved in Attleboro and the surrounding communities. This year will have some challenges with COVID-19, but our players will be very involved. We are starting an initiative in town to Keep Attleboro Clean where our players will be visible around town helping to keep parks and school grounds clean. We thought that was especially important this year when some city jobs have been scaled back. We want to ensure our community stays beautiful. All of our players are also required to help on the ice with a local Mite program and "learn to skate" program. We will do some virtual reading to classrooms and many more programs. Coming to the Generals is a full buy in, to the team, the organization and the community," said Locke.
That kind of community involvement is a staple throughout the Northeast organization.
"Myself, Bryan and the 2 other owners Rich O'Dowd and Bob Penfield put a lot into each player that puts on a uniform and we want the players to give back by being visible community members. When we sell a player to colleges, NA teams or other programs, we want them to not only get a great hockey player but a great person that is all in," he said.
Less than a year removed from a remarkable season that ended too soon, the Generals now have a road map for success heading into 2020-21.
Next Up: Oklahoma City Blazers