3View: Oklahoma City Blazers
September 26, 2020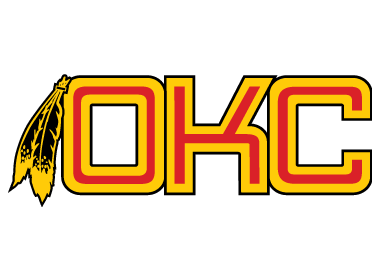 The 3View series will feature an in-depth look into all NA3HL teams in preparation for the 2020-21 season, with two teams being highlighted daily, leading all the way up until the start of the regular season. 3View goes in-depth into each NA3HL team and will include interviews with all the head coaches in the NA3HL, as they provide fans with their expectations and outlook for the 2020-21 season, including taking a look at their potential roster and their strengths as a team for the upcoming season. It will also take a look back on the 2019-20 season and how each team fared and what they accomplished. Best of all, 3View will provide the fans of the NA3HL with an inside look at their favorite team and what to expect.
Oklahoma City Blazers
2019-20 Record: N/A
2020 Playoffs: N/A
Head Coach: Josh Berge
2020-21 Division: South
The Oklahoma City Blazers face an interesting task in joining the NA3HL. Much like the El Paso Rhinos, they bring a history of success in Junior hockey to a new and largely unknown environment, but will still look to make an immediate impact in the tough South Division.
Head Coach Josh Berge expects to hit the ground running in a few weeks, with postseason play already on his mind. With five straight playoff appearances from 2014-19, the Blazers enter the fray with "contender" status already achieved.
"I believe playoffs would be a goal of ours in our first season in the NA3HL. We want to be competitive in every game that we are in. Most importantly, I want to see players develop over the course of the season," said Berge.
The Blazers will bring a defensive mindset to their inaugural season, highlighting talent both between the pipes and on the blue line. And up front, it's all hands on deck as each line will be expected to contribute offensively.
"We are building the team from the goaltender out," said Berge, "I think we have a very solid 1-2 punch in net. Our defensive core has a good mix of veterans and a couple of young, talented defenseman that we think can make an impact right a way.
Watch: Oklahoma City Blazers season preview
"We have good depth throughout our roster. We are looking to do everything by committee this year."
Berge also looks forward to the advancement opportunities afforded by playing in the NA3HL. From the NAHL to other Junior leagues and college teams, the Blazers already boast a reputation for successful player development, which stands to be amplified in their new league.
"We plan on using our contacts within our coaching staff to help promote and move kids on to the next level. With my assistants both having USHL experience, they have made a lot of contacts over the years," he said.
Outreach and service are pillars of the Oklahoma City organization, and like many of their new opponents, the Blazers aim to give back to those who support them each weekend.
"We like to get out in the community as much as possible. This year we will have them volunteering at food banks, reading to elementary schools, and helping with our youth program. Growing the sport in OKC is very important to me," said Berge.
New beginnings are rarely easy to navigate, but with a culture of success already built, expect the Blazers to be competitive right from the start in the new NA3HL season.
Next Up: Oregon Tradesmen