3View: Rochester Grizzlies
September 27, 2020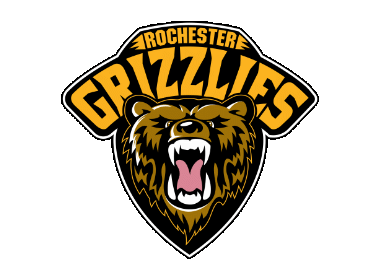 The 3View series will feature an in-depth look into all NA3HL teams in preparation for the 2020-21 season, with two teams being highlighted daily, leading all the way up until the start of the regular season. 3View goes in-depth into each NA3HL team and will include interviews with all the head coaches in the NA3HL, as they provide fans with their expectations and outlook for the 2020-21 season, including taking a look at their potential roster and their strengths as a team for the upcoming season. It will also take a look back on the 2019-20 season and how each team fared and what they accomplished. Best of all, 3View will provide the fans of the NA3HL with an inside look at their favorite team and what to expect.
Rochester Grizzlies
2019-20 Record: 37-8-2, 76pts (1st in Central Division)
2020 Playoffs: Qualified
Head Coach: Chris Ratzloff
2020-21 Division: Central
Since rebranding as the Grizzlies in 2018, Rochester has posted two consecutive 30-win seasons including a regular season division-clinching 37 W's in 2019-20.
After such a successful season ended abruptly with no championship up for grabs, Head Coach Chris Ratzloff is looking forward to using last season's success as a springboard for the new year. From championships to commitments, the Grizzlies are going for it all in 2020-21.
"Last season was a great building block for what we are trying to achieve. We improved on the first season in almost all areas and to consider this year a success would mean taking another step up especially with getting players opportunities at higher levels," he said.
The 2019-20 Grizzlies were truly a special group. With NA3HL Leadership Award Winner Porter Haney and First-Team All-Star Michael Heitkamp anchoring the blue line and NA3HL Goaltender of the Year Michael Backstrom between the pipes, Rochester rode a unique roster to a magical campaign.
With their depth taking something of a hit heading into the new season, the onus is on some fresh recruits to pick up the slack and help the Grizzlies mount the title charge they didn't get the chance to last season.
"We were blessed with a deep roster last year which allowed us to roll lines and get everyone in the lineup. This year, with the loss of some of our high-end defensemen and some top-scoring forwards, we are looking to fill some gaps. So far it's looking like our new recruits have the potential to fill those gaps, it's just a question of how quickly they can adjust to the new level of play and our systems. It is also looking like depth will again be a strength for us this year," said Ratzloff.
The newcomers won't be alone, though, as some key returners will lead the way in Rochester.
"We have our leading scorer Joey Fodstad back, along with some other key vets that played big roles for us down the stretch last year. We will look for them to be our leaders to help the new guys learn our systems and our culture. We also have a great group of young players with a lot of potential that we will expect to to be quick learners and step up early," said Ratzloff.
Rochester also boasts a unique relationship with the Austin Bruins of the NAHL, having seen many former Grizzlies make their way to not only the Bruins, but other NAHL teams as well over the past few years. Whether tendering, getting a call-up for a weekend or just hopping on for a practice, Grizzlies have every opportunity to be seen at the NAHL level.
"Our relationship with the Bruins has been great, allowing us to send players over to practice and play with them. Our coaching staffs work very well together and we communicate about players often so it is a great fit with both teams. Along with the Bruins, we have also built great relationships with other NAHL teams. With the goal of advancing our players, we have the blessing of Coach Howard and our owners to work with them as well. Last season, we had eight different players play for six different teams that included two of our players playing against the Bruins," said Ratzloff.
Watch: Rochester Grizzlies season preview
Last season's success gave five Grizzlies the kind of resume needed to earn an NCAA commitment. Backstrom, Haney and Heitkamp turned their award-winning individual campaigns into D3 opportunities, alongside Jesper Hofling and Noel Parker.
That four of those players ended up in the MIAC or WIAC is no coincidence; Ratzloff says the team being in Rochester allows for easy scouting from teams in those conferences.
"In addition to the NAHL, we will be looking to get a handful of our players college opportunities. Our location allows us to have MIAC and WIAC coaches in our building often throughout the season," he said.
Part of Ratzloff's off-ice focus this season will be on new forms of community outreach. Navigating off-ice interactions during the pandemic will require some outside-the-box thinking ahead of this season, though the Grizzlies will still maintain some previously established relationships.
"With the COVID-19 restrictions and distance learning, we will be looking at new opportunities to serve the Rochester community. We will also continue to work with Habitat for Humanity, Mayo Children's Hospital, Rochester Youth Hockey, Hockey Day Rochester and the Supermite program with on-ice assistance as well as attending some of their other events," he said.
Following up the best season in the organization's NA3HL history, look for the 2020-21 Rochester Grizzlies to mount a charge towards the Fraser Cup.
Next Up: Sheridan Hawks