September 29, 2020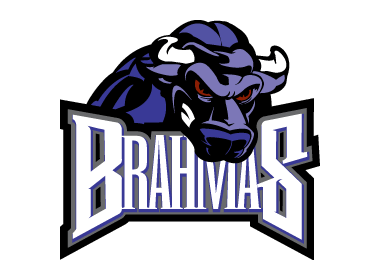 The 3View series will feature an in-depth look into all NA3HL teams in preparation for the 2020-21 season, with two teams being highlighted daily, leading all the way up until the start of the regular season. 3View goes in-depth into each NA3HL team and will include interviews with all the head coaches in the NA3HL, as they provide fans with their expectations and outlook for the 2020-21 season, including taking a look at their potential roster and their strengths as a team for the upcoming season. It will also take a look back on the 2019-20 season and how each team fared and what they accomplished. Best of all, 3View will provide the fans of the NA3HL with an inside look at their favorite team and what to expect.
Texas Brahmas
2019-20 Record: 40-5-2, 82pts (1st in South Division)
2020 Playoffs: Qualified
Head Coach: Ryan Anderson
2020-21 Division: South
Coming off of their first Fraser Cup Championship victory in 2018-19, the Texas Brahmas followed up with an even stronger regular season in 2019-20, recording their second 40-win campaign in three years and posting a league-leading 82 points.
Through the ups and downs of the year to eventually close out the season on a remarkable 22-game unbeaten streak, Head Coach Ryan Anderson knows it was a season to remember for the still-defending champions.
"First and foremost it was an incredibly difficult end to the season due to the COVID-19 pandemic. I commend the NA3HL on the proactive decision they made to ensure the safety of our billet families, players and staff. It broke my heart to see my 20 year olds not get a chance to go on another Fraser Cup run but I was also very proud of the maturity our team showed handling the sudden end to the season. We really felt as a team that we were playing our best hockey of the season basically from the last game of the showcase on, during that stretch we went on a 20-0-2 run up until the cancellation of the season. We felt like we had a fantastic opportunity in front of us to make a deep run in the playoffs and had a great chance to defend the Fraser Cup," he said.
Looking ahead, Anderson expects the same top-tier effort and production out of his group.
"Our organization prides itself on goal setting, we obviously want to compete for a chance to win the Fraser Cup and to do that means we need to qualify for playoffs. We talk about it all the time that team success leads to individual success and that goes hand in hand with player advancement. I want our group to sit down in April and know that we left it all out on the ice and did everything possible to finally get the chance to defend the Fraser Cup," he said.
The Brahmas' success has come on the back of the league's stingiest defense, as they coughed up just 81 goals last season — 13 fewer than the second-ranked Rochester Grizzlies.
That kind of defensive structure is a must in the South Division, where physicality often dictates who has the run of play.
"You can always count on a South Division game in the NAHL or NA3HL to be a tightly-checked, physical game. Our team is built around great goaltending and sound defensive play. We took great satisfaction in the fact that we led the NA3HL last season in goals against and had two goalies right near the top of the league goaltending stats," said Anderson.
And even after such a standout season from the whole lineup, it's going to take even more to fend off some stiff competition — including a couple new opponents.
"From day one (last year) everyone bought into how we were going to play, and it will take an even greater commitment to our structure and systems this year. We want to be a team that is very hard to play against and has the ability to go north in a hurry. I am very excited with the growth of our division with El Paso and Oklahoma City. I expect them to fit right in and provide a real strong test. It is also never easy going into Louisiana or Atlanta and getting two points. The improvement that the Texas RoadRunners have made over the last year is also something to keep an eye on. Then we have our cross town rival Mid-Cities and those game's always have just a little bit more emotion in them. I am anticipating a deeper and stronger division than last year, everything will have to be earned in the South," said Anderson.
The Brahmas are technically still atop the NA3HL mountain, but maintaining their place on that summit will take some quick development from new players and steady leadership from veteran voices.
"As of right now, we are a team in transition. Most of the players that we won a championship with in 2018-2019 or part of last year's Regular Season Championship team are now either moved on to college or have opportunities in the NA training camps. We currently have players like Tyler Blanchard, Jack Cooper, Leevi Selanne, Ian Erdman and Kayden Hargraves attending training camp in the NA. These players leave huge roles to fill by our incoming players. It will take the leadership and guidance of guys like Shane Ditullio, Danny Barry, Blake Rothstein, Benjamin Mondou, Richard Indermill and Seth Manning to show the new guys the Brahma way. That being said, I am very excited about the talent that is coming in and look forward to an extremely competitive training camp. We are ready for the journey and challenge ahead of us," said Anderson.
Watch: Texas Brahmas season preview
And while Texas will miss key figures like Cooper, Selanne, Erdman and Hargraves, the fact that those players have earned a shot in the NAHL means the Brahmas are doing things right in North Richland Hills.
"If you are not advancing players at the NA3HL you have a hard time attracting new ones," said Anderson.
"We teach the details that will not only make them great NA3 players but also translate to important roles at the NAHL level. We spend a lot of time doing team and individual video. There isn't a day during the week that we don't use video. We also have extra skill session skates as well as a full time strength and conditioning coach. Once a week our players also work with an ACT/SAT prep coach. We make sure our players have everything they need to get to the next level."
Part of the Brahmas' strength in advancement is their relationship with Lone Star of the NAHL. Sharing a building, ownership and even their team name, the two teams work in tandem to advance players from the NA3HL, to the NAHL to college hockey.
"The working relationship our team has with the Lone Star Brahmas is a huge advantage for our players. Coach Wildfong and Coach Whiteside make themselves available to the NA3 guys on a daily basis, inside NYTEX it is one Brahma family. Last year we had 17 players get opportunities to go skate with NA clubs all across the league. Dylan Smith was called up to Lone Star full time after spending 10 games with us. Ian Erdman, Gabe Potyk and Kayden Hargraves also earned call up's with Springfield and Corpus Christi. Jack Cooper earned a tender with Lone Star as well. I was also very proud of the number of Brahma names that got called during the NAHL Draft. It was very rewarding for me as a coach to call Blanchard, Selanne, Potyk, Hargraves and Couell and congratulate them on being selected," said Anderson.
Shifting outside the rink, Anderson is looking to continue his team's commitment to community service as safely as possible.
"The safety of our players is our number one priority right now with the ongoing COVID-19 pandemic. It is my hope that we can keep moving forward and get our players back out into the community as much as possible. Last season, our team was very involved with the Brahmas Travel Teams and House League teams. It is extremely important for me to see our players giving back and mentoring the youth in our rink," he said.
And with the season right around the corner, it's just going to be nice to be back on the ice.
"I want to thank the NA3HL league and ownership groups for the work that went into getting us back on the ice for the upcoming season. The commitment they have shown to making sure we return to a safe environment has been extraordinary. We are all very lucky and blessed to be a part of this great game and it sure feels good for everyone involved to see pucks dropping shortly," said Anderson.
With several key pieces advanced to the next level, the Brahmas will have to re-tool on the fly to defend their title in 2020-21.
Next Up: Texas RoadRunners