3View: Wausau RiverWolves
September 30, 2020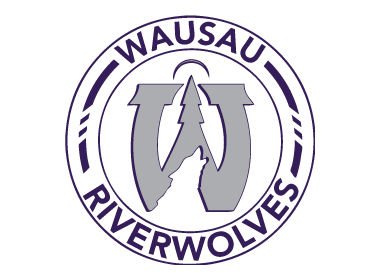 The 3View series will feature an in-depth look into all NA3HL teams in preparation for the 2020-21 season, with two teams being highlighted daily, leading all the way up until the start of the regular season. 3View goes in-depth into each NA3HL team and will include interviews with all the head coaches in the NA3HL, as they provide fans with their expectations and outlook for the 2020-21 season, including taking a look at their potential roster and their strengths as a team for the upcoming season. It will also take a look back on the 2019-20 season and how each team fared and what they accomplished. Best of all, 3View will provide the fans of the NA3HL with an inside look at their favorite team and what to expect.
Wausau RiverWolves
2019-20 Record: 6-38-3, 15pts (6th in Central Division)
2020 Playoffs: Did Not Qualify
Head Coach: Colin Bailey
2020-21 Division: Central
Since logging 10 wins and earning a playoff berth in their inaugural NA3HL season in 2017-18, the Wausau RiverWolves have struggled to make their way back to the postseason.
The 2019-20 season was another one to forget for Wausau, as they won just six games and fell behind early in the deep Central Division.
But Head Coach Colin Bailey is only looking ahead. With a clean slate heading into the new season, the RiverWolves have an opportunity to reset and get things moving in the right direction.
"Being in one of the best divisions in the league means that every night is going to be a battle for those two points. In April 2021, we hope that we are able to look back with wins against each of our opponents and that we are able to claw our way towards a playoff spot. In order to do that, we need to adopt a 'never give up' mentality and come into each day ready to work knowing that nothing is going to be handed to us," said Bailey.
Watch: Wausau RiverWolves season preview
Part of Wausau's struggles last year came from a top-heavy roster. Kasey Couture and Hayden Miller highlight a handful of veterans returning to the team in 2020-21, but it's going to be up to several new additions like forwards Isaac Wickersheim, Max Beste, Trey Bociek and Nolan Gifford, as well as defensemen JJ Martin and David MacDonald, to carry the flag in Wausau.
"We are only returning 4 players from last year so we have practically an entirely new roster. Depth was an issue for us last season, so one of our goals in the off season was to increase the depth at every position and I believe that we did a great job expanding depth at each position. We have players who can put the puck in the net, along with some great defenseman to help round out our roster," said Bailey.
Each player on the roster, whether veteran or rookie, star of the night or healthy scratch, will have an impact on the hockey scene in Wausau. Despite pandemic-related restrictions, Bailey expects his team to be role models for the young hockey players in the area.
"We are following the guidelines set forth by our county health department, so unfortunately, many of our community events will be limited due to COVID-19. Regardless, we are going to do everything that we can to still maintain some sense of normalcy by being active within the community while also still following today's guidelines. The youth players in our community look up to our players, so (our players) will still have the opportunity to be looked up to by the youth players as well as have a face within the community," he said.
One area in which the RiverWolves thrived last year is player advancement. With multiple players earning college commitments in 2019-20, Bailey is looking forward to seeing even more of his players realize their dreams of playing at the next level.
"Player advancement is extremely important and something that we wish to continue to build on from last season. We want the players to be skilled and knowledgeable as well as coachable for when they reach the next level. Last year we were able to advance five players to the ACHA. This season, we hope to build on those contacts and get our players a chance to demonstrate their skill for both NAHL and college teams," he said.
It's been a tough couple of years for the RiverWolves. But each new season brings new opportunity, and with a rejuvenated roster and determined coaching staff, it won't be long before Wausau is making its way back up the standings.
Next Up: Willmar WarHawks