Grizzlies top Jr. Blues on Opening Day
October 2, 2020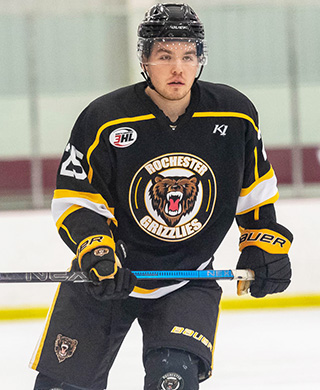 Rochester 4 @ St. Louis 1 - The Rochester Grizzles got the 2020-21 NA3HL regular season started off on the right note with a commanding 4-1 victory over the St. Louis Jr. Blues on Thursday.
Getting things started in the first period was Grizzlies veteran Zak Justice who potted the team's first goal of the 2020-21 season. Newcomer Tyler Huffer rifled a shot which Justice redirected past St. Louis netminder Owen Carlson for the 1-0 lead.
In the 2nd period, the floodgates opened for the Grizzlies. Peyton Hart helped his team to a 2-0 lead thanks to an odd-man rush and a crafty assist by Hunter Wilmes. Seconds after the Grizzlies returned to full-strength, a 2-on-0 break turned into a 3-on-0 into the St. Louis end. Wilmes head-faked the netminder and slid the pass over to Hart who scored on the practically wide-open net. Several minutes later, Wilmes got a goal of his own with a nifty back-hander that went up and over the shoulder of Carlson for the 3-0 Grizzlies lead. Before players on the ice had the chance to catch their breath, the Grizzlies scored their fourth goal of the game, thanks to Mason Thingvold, to make it 4-0. Thingvold's first career junior goal came just 39-seconds after Wilmes' tally and completed the three-goal third period for Rochester.
In the third period, Grizzlies netminder Shane Soderwall kept his shutout alive with an athletic sprawling save while on the power-play, but ultimately with a little over five minutes left in the game, St. Louis ended their scoreless day with a goal from Alex Gamzatov.
With the win, the Grizzlies improve to 1-0-0-0 on the season while the St. Louis Jr. Blues begin with a loss to start the year, going to 0-1-0-0. Grizzlies netminder Soderwall earned the victory turning aside 19 of 20 from the Jr. Blues, while St. Louis goalie Owen Carlson was handed the loss after surrendering four goals on 43 shots.