Saturday Scores: Generals make statement in East opener
October 4, 2020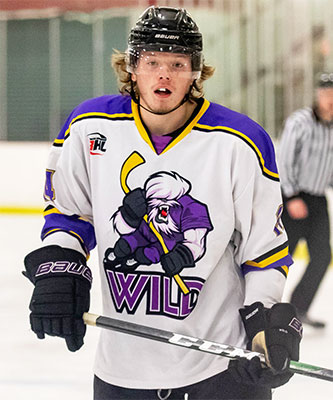 Northeast 8 @ Danbury 1 - One of last season's highest-scoring teams, the Northeast Generals hit the ground running in the new season, with Nick Ramm's four goals leading the way in an 8-1 win over the Hat Tricks. Austin Crisp, Nicklaus Obourn, Deacon More and Sean Gorman chipped in goals of their own for Northeast, as Wesley Westendorf potted the lone Danbury marker. Espen Reager earned the win in net for the Generals with 32 saves, outmatching Alex Fernandes' 26 saves and Landon Palmer's pair of stops for Danbury.
Gillette 3 @ Helena 1 - Corey Miscovich put the Bighorns ahead early, but two Declan Young goals helped the Wild storm back for a 3-1 win on Saturday night. Caleb Sanborn also scored for Gillette, and Liam Scott sealed up the back end with 19 saves in goal. Anthony Adleman had a busy night for Helena, turning away 35 shots between the pipes.
Yellowstone 3 @ Missoula 5 - The Missoula Jr. Bruins passed another early test on Saturday, outlasting the Quake in a 5-3 win. Liam Bland's two-goal outing highlighted a balanced attack, as Ian McIntosh, Austin Franck and Kieran Christianson also got in on the scoring. Brandon Kididis, Cade Rosansky and Jack Harris provided Yellowstone's offense in front of a stellar 43-save effort in goal from Hudgel Selk, but Maxim Currie's 28 stops gave Missoula the win.
Great Falls 8 @ Butte 1 - The Americans were at their high-flying best on Saturday, featuring eight different scorers in an 8-1 steamrolling of the Cobras. Cole Komarek, Henry Chavez, Joshua Serino, Micah Serino, Jeremiah Serino, Jake Hayes, Patrick Crooks and Braeden Monroe each put a tally in the goal column for Great Falls, who received a shared 18 saves from Trever Mellen and Hunter Hadsock. Diego Olson nabbed the only Butte goal, while goalies Mason Giordano and Danny Fielding face down a stunning 73/81 pucks.
Oregon 6 @ Milwaukee 3 - The Tradesmen stayed perfect through their young inaugural season with a 6-3 road win over Milwaukee. Sam VanderHoeven, Zane Van Zeeland, Carter Stobb, Ethan McCormack, Brent Edmondson and Dylan Dent each contributed to the Oregon offense, with 20 saves from Hunter Adams shoring up the crease. Will Jentz, Teddy Marion and Mason Ausmus struck for the Power, and Jackson Broussard put up a stout 36 saves in Milwaukee's net.
Alexandria 5 @ New Ulm 3 - Two-goal efforts by Caleb Strong and Austin McNeil carried the Blizzard past the Steel 5-3 in New Ulm on Saturday. Cole Lehmann rounded out the Alexandria scoring, while Nick Wieben, Marcus Mack and Corey Stormer fueled New Ulm. Bailey Rosch's 23 saves earned the win, while Zac Hattan suffered a tough-luck loss with 40 saves in the Steel cage.
Willmar 2 @ Granite City 9 - The Warhawks eased into the game with goals in each of the final two periods, but the Lumberjacks' attack proved too potent in a 9-2 Granite City home victory. John Blake and Nick Plautz led the way with two goals apiece, Griffen Lehet, Hanson O'Leary, Wyatt Halverson, Brockston Masseth and Matthew Metsa each added a goal and Bailey Huber stopped 14 pucks to piece together a Lumberjacks' victory. Tyler Corbid and Ethan Mock scored Willmar's goals in front of a whopping 41 saves in net by Cooper Olson.
Sheridan 2 @ Bozeman 3 - A titanic til between last season's top two teams in the Frontier went down to the wire, as the Icedogs toppled the Hawks 3-2 with a pair of third-period strikes. After Kadyn Fennell put Bozeman ahead in the first period, Sheridan responded with goals by Jacob Cummings and Blake Billings in the second, giving them a 2-1 advantage in the final 20. But Hunter Maschke struck 8:05 into the frame, and Tae Evans netted the death blow with three minutes left to help the Icedogs to victory. Brandon Keener was outstanding in the Bozeman net, stopping 40 of 42 shots for the win. Luke Fundator also put in a solid shift for Sheridan with 23 saves.