Friday Finals: Blazers win NA3HL debut in thriller
October 10, 2020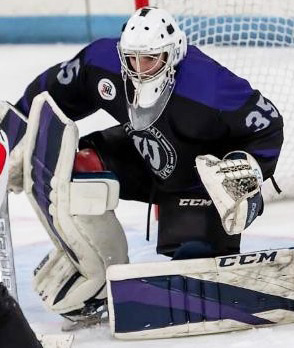 Louisiana 4 @ Oklahoma City 5 (OT) - It was a wild one in OKC as the Blazers took home a win in their NA3HL debut with a 5-4 overtime decision against the Drillers. Tristan Warr netted the game-winner 1:14 into overtime following a back-and-forth 60 minutes. Joining Warr on the Blazers' side of the scoresheet were Artem Korolev, Noah Henslee, Artem Shura and Michael Onda, with Matthew Genter provided a safety valve in net, stopping 19 shots on the night. Louisiana received goals from Ben Cope, Thomas Mougin, Frank Steinway and Josh Hrip in front of a 32-save effort from Kyle Karoleski.
Mid Cities 2 @ TX RoadRunners 4 - After falling behind early, the RoadRunners roared back with three unanswered tallies to fuel a 4-2 win over the Stars and build some positive momentum to start the season. Jacob Norwood, Anthony Lautz, Derek Boutin and Garrett Wilderman chipped in up front for Texas, in front of a 37-save effort by Aidan Rudolf. Todd Thompson and Kai Rock scored for Mid Cities as Nahuel Veyan made a stunning 47 saves in the loss.
St. Louis 2 @ Rochester 4 - The Grizzlies kept a stellar start to the season going with another win over the Jr. Blues, this time striking for three straight goals in the third period en route to a 4-2 comeback win at home. Mike Ivory put St. Louis ahead early in this one, but his goal was cancelled out late in the second by Tyler Huffer of Rochester. And after Joey Solimando restored the Jr. Blues' lead less than a minute into the final frame, Huffer added a second marker to tie things up and Justin Wright buried the game-winner fewer than 20 seconds later. Peyton Hart added an empty-netter for the Grizzlies, who received 21 saves from Shane Soderwall. Owen Carlson stopped 27 pucks for St. Louis.
Oregon 0 @ Wausau 2 - After a stellar pair of wins on their debut weekend, the Tradesmen ran into an absolute brick wall named Joseph La Forge, Wausau's goaltender who turned aside 55 of 55 Oregon shots to fuel a 2-0 RiverWolves victory on Friday. As La Forge slammed the door on any Oregon opportunities, Isaac Wickersheim and Max Beste scored at the other end on Oregon's Leo Lapata, who finished with 17 saves on the night.
Alexandria 5 @ New Ulm 3 - Down 3-1 early in the third, the Blizzard mounted a remarkable comeback, scoring four goals in the final 12 minutes to snatch a 5-3 road win over the Steel on Friday. Joey Gimberlin and Corey Stormer had New Ulm rolling in the first, before Cole Lehmann dampened their spirits with an Alexandria strike late in the second. And though Gimberlin nudged New Ulm back ahead with his second goal of the game at 2:48 of the third, Alexandria goals by Cole Jacobs, Austin McNeil, Cole Klingbell and Caleb Strong ultimately saw them come out on top. Bailey Rosch kept the Blizzard in it, stopping 47 shots between the pipes and outdueling New Ulm's Griffin Foster, who faced down 26 pucks at the other end.
Milwaukee 1 @ Peoria 6 - Ethan Chesney scored twice, Cole Walter stopped 17 of 18 shots and the Mustangs cruised past the Power 6-1 at home on Friday. Ibriham Arifi, Quinton Murphy, Jackson Gram and Jaycob Bland each potted a goal for Peoria, while Trey Bass posted the lone Milwaukee marker. Jackson Broussard was busy in the Power cage, stopping 38 of 44 shots on the night.
Bay State 3 @ Long Beach 1 - The newly-dubbed Bobcats opened up their season with a win, riding two JayVon Fogelgren goals to a 3-1 win over the Sharks on Friday. Damon Polk netted the other Bay State goal, and Nathan Moffitt was stellar in the crease with 35 saves on the night. Greyson Skirpan of Long Beach put on a show of his own in the Sharks' cage, with a stout 31 saves, but Sam Brickley's lone goal was not enough for the win.
North Iowa 0 @ Granite City 2 - The Lumberjacks rode a 22-save shutout effort from Bailey Huber and two goals in the game's first five minutes to a 2-0 win over rival North Iowa in the first matchup of the two West Division heavyweights this season. Brockston Masseth found twine initially at 2:36 of the first period, followed by Jonah Jangula less than 90 seconds later to give Granite City the win. Evan Babekuhl stood tall in net for the Bulls, stopping 28 pucks in the loss.
Bozeman 4 @ Missoula 3 (OT) - The comeback was alive and well around the NA3HL on Friday, and found its way to Montana, where the Bozeman Icedogs were resurrected in the third period to erase a 3-1 deficit and eventually win 4-3 over the Bruins in Missoula. After Tae Evans' early goal to put the Icedogs ahead, Cayce Balk, Austin Franck and Liam Bland gave Missoula a 3-1 advantage heading into the final 20. But Hunter Maschke and Kai Kingery helped Bozeman come back to life to force overtime, where Evans' second strike of the game finished off the win for Bozeman. Brandon Keener picked up the win for the Icedogs, outmatching Seth Daniel of Missoula between the pipes.
Helena 2 @ Great Falls 3 - Stuck in a 1-1 deadlock after 40, the Americans struck twice in the third and held on from there to knock off the Bighorns 3-2 in Great Falls. Henry Chavez, Bryson Fletcher and Connor Doyle fueled the offensive effort with goals, as Trever Mellen held down the fort in net with nine saves for Great Falls. Helena saw Andrew Deskin and Gavyn Galloway light the lamp in front of Anthony Adleman's 15 saves between the pipes.
Butte 0 @ Sheridan 21 - The Hawks flexed their muscles in a big way on Friday, lighting up the Cobras for a 21-0 win at home. James Downie earned the seven-save shutout as all but six Sheridan skaters found twine. Logan Syrup netted five goals, Peyton Kesselhon logged a hat-trick and Luke Desmarais, Nathan Gilleshammer, Justin Schwartzmiller and Simon Herz each bagged a pair apiece to lead the way. Filling in the gaps, Jacob Cummings, Zach Carson, Blake Billings, Gavin Miller and Kamden Sengheiser each added a goal to cap off the Hawks' victory. Butte goaltenders Mason Giordano and Danny Fielding faced a barrage throughout the game, as Giordano stopped an astounding 80 shots and Fielding faced down 17 in the loss.
Gillette 5 @ Yellowstone 7 - A barnburner in Cody, WY saw the Quake net five unanswered goals through the middle portion of the game to help themselves take a 7-5 win over the Wild on Friday. Jack Harris' hat-trick stole the show, with Will Sobaski, Travis Runyan, Cade Rosansky and Joey Epplin each scoring for Yellowstone as well. Hudgel Selk was a force in net for the Quake with 36 saves. For Gillette, Declan Young set the pace with a pair of goals, as Mitchell Veckich, Will Blake and Nathan Fanning found the scoresheet as well. Brad Muzzarelli finished with 26 saves in the Wild net.