Saturday Scores: Americans, Grizzlies, Bobcats stay unbeaten
October 11, 2020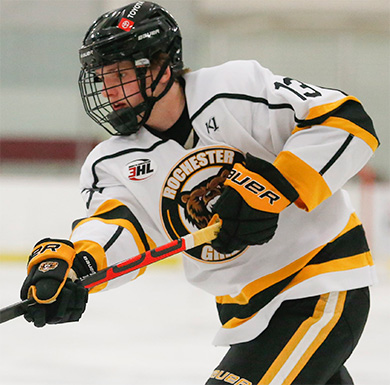 Great Falls 4 @ Bozeman 2 - Alex Jackson's two first-period goals for Great Falls were key as the two teams traded tallies through the final 40 en route to a 4-2 Americans win over the Icedogs. Cole Komarek and Micah Serino also scored for the Americans, while Kadyn Fennell and Kai Kingery potted the Bozeman goals. Trever Mellen earned the win with 34 saves on the night, while Brandon Keener and Evan Wittchow stopped 31 combined shots for the Icedogs.
St. Louis 2 @ Rochester 4 - The Grizzlies' perfect start continued on Saturday, as they rode a Dylan Schneider hat-trick to another win over division rival St. Louis, this time 4-2 over the visiting Jr. Blues. Zach Foster made 24 saves to backstop the victory, and Micah Gernander rounded out Rochester's scoring. St. Louis, meanwhile, received 43 saves from Owen Carlson and goals from Tony Andrews and Mike Deeba to go up 2-0 late in the second period, but Schneider's hat-trick in the final 23 minutes saw the Grizzlies roar back for the win.
Mid Cities 2 @ TX RoadRunners 1 - Tayten Lewis put the RoadRunners ahead early, but a pair of Michael Fatta goals and a stunning 53-save effort by Nahuel Veyan in goal helped the Stars launch a comeback and take a 2-1 win on the road on Saturday. Max Hetman put in a solid shift for Texas, stopping 19 pucks in the loss.
Bay State 4 @ Long Beach 3 (SO) - Gordon Ogden buried the game-deciding breakaway for the Bobcats as they took home a 4-3 shootout win over the Sharks on Saturday. Troy Harwell led Bay State during regulation time with two goals, joining Thomas Hoffmann on the scoresheet. Meanwhile, Anderson O'Connor paced the Sharks' attack with two goals of his own, as Dalton McCann lit the lamp as well for the hosts. Both Zack Roncarati of Bay State and Greyson Skirpan of Long Beach were impressive between the pipes, stopping 34 shots apiece to keep their respective teams in the contest.
Milwaukee 4 @ Peoria 3 (SO) - Trading a goal apiece in each regulation period, the Power and Mustangs eventually required a shootout, during which Jackson Broussard made the game-winning save after stopping 31 pucks in the first 60 minutes to give Milwaukee a 4-3 win over Peoria on Saturday. Trey Bass' two goals and Garret Alton's tally helped the Power push the game to extra time, where Mason Ausmus and Tyler Nelson each scored in the breakaway contest. George Giese, Connor Bennett and Jaycob Bland contributed goals for Peoria in front of 15 Joe Armboffi saves, and Giese added another marker in the shootout, but Reid Lune was then denied by Broussard to give Milwaukee the win.
Louisiana 7 @ Oklahoma City 3 - After dropping the season opener on Friday night, the Drillers got their revenge on the Blazers, dropping the hosts 7-3 on Saturday night. Skyler Coard set the tone for Louisiana with 40 saves in net, as Ben Cope and Josh Hrip led from the front end with two goals apiece. JT Sgro, Chandler Martin and Brendan Krawczyk each chipped in a goal for the Drillers as well. Friday night's OT hero Tristan Warr was again in the mix for Oklahoma City, posting a goal alongside Samuel Miller and Hunter Warner. Blazers goaltenders Matthew Genter and Joseph Wilson combined for 18 saves on the night.
Willmar 7 @ Alexandria 6 (OT) - A wild, back-and-forth tilt that saw six goals in the third period alone lasted just 29 seconds into overtime, when Jeremiah Konkel netted his second goal of the game to hand the Warhawks a huge 7-6 road win over the Blizzard. Both teams featured a plethora of scorers in the high-scoring affair; Tyler Corbid, Kaidden O'Connor, Ben Johnson, Elbridge DeKraai and Cayden Sunde joined Konkel on the scoresheet for Willmar, while Dallas Duckson led Alexandria with two goals and Cole Lehmann, Nolan Westra, Brandon Greeder and Sean Kenny chipped in for the Blizzard as well. Both netminders were busy in this one, with Luke Weberg stopping 35 of 41 for the Willmar win and Bailey Rosch turning aside 30 of 37 for the Blizzard.
North Iowa 3 @ Granite City 2 - Round one went to the Lumberjacks on Friday, but the Bulls had their revenge on Saturday as Caleb Huffman's late goal with under two minutes to play helped North Iowa edge out Granite City 3-2. In a tense affair, it was Garrett Freeman starting the scoring to put North Iowa on top first. Carson Simon equalized late in the second period for the Lumberjacks, but Cal Nauss restored the Bulls' advantage before the end of the frame. And after Simon's second of the game knotted things up once more, it was Huffman's late heroics that saved the game for North Iowa. Joe Daninger took the win in net, stopping 19 shots for the Bulls and outdueling Brandon Shantz of Granite City, who faced down 23 pucks at the other end.
Missoula 8 @ Helena 6 - Momentum in this contest swung wildly, as the Bighorns first took a 4-0 advantage through 22 minutes, followed by a 4-0 run for the Bruins to tie things up, and yet another four unanswered Missoula goals in the third flanked by two Helena markers to ultimately give the Bruins an 8-6 win on the road. Leading the way for the victors was Liam Bland with a hat-trick, joined by Cayce Balk, Pablo Frank, Trevor Prince, Mason Mowat and Sam Skillestad on the scoresheet. Helena's offense was fueled by Dylan Ferreira's two goals, as well as individual strikes by Gage Bowerman, Gavyn Galloway, Isaac Ellingson and Conor Pequet. Both teams used two netminders in this tilt, and the winning duo of Christopher Cantillo and Sam Miland stopped a combined 40 shots for Missoula. Helena rolled out Kevin Taunton and Nate Gulsvig between the pipes, who turned aside a hefty total of their own with 39 shared saves on the night.
Butte 1 @ Sheridan 18 - After Friday night's offensive explosion, the Hawks were once again at their high-flying best in an 18-1 win over the Cobras. Jonathon Teasdale and Nathan Gilleshammer were the stars of the show Saturday night with a hat-trick apiece for Sheridan. with Justin Schwartzmiller, Logan Syrup and Jacob Cummings potting two goals apiece as well. Nick Tigges, Zach Carson, Blake Billings, Gavin Miller, Peyton Kesselhon and Luke Desmarais rounded out the Hawks' scoring in this one, as Patric Loefler and Antonio Tarantino combined for nine Sheridan saves on the night. Kyler Garsjo salvaged a goal for Butte after being shut out last night, and both of the Cobras' goalies, Nikolai Wallery and Mason Giordano, put forth another commendable effort to stop 74 and 20 shots, respectively.
Gillette 10 @ Yellowstone 4 - Declan Young notched a hat-trick, Mitchell Veckich and Tristan Baker each scored twice and the Wild cruised past the Quake 10-4 on Saturday night. Caleb Sanborn, George Stilson and Nathan Fanning chipped in goals for Gillette as well, as Connor Sullivan carried the flag in goal with 35 saves on the night. Dylan Rumpke led Yellowstone's attacking efforts with two goals, joining Brandon Kididis and Ethan Gicewicz on the scoresheet, and the duo of Hudgel Selk and Blake Reinert stopped a total of 39 pucks in the Quake net.