NAHL launches redesigned website at nahl.com
NAHL opens 36th season tonight
September 9, 2011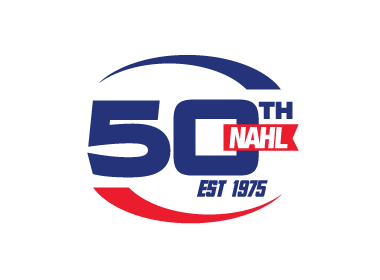 FRISCO, TEXAS – The North American Hockey League (NAHL) is pleased to announce the redesign and launch of their new-look website at www.nahl.com. The launch comes on the day that the league is set to begin its 36th season. The NAHL is currently the largest and oldest junior hockey league in the United States.

The website has a sleeker look with a different color scheme than the previous one. Some of the new features include the addition of an NAHL TV portal where fans can view NAHL league and team video clips, highlights and interviews. The site features a section to display the top stories along with additional news features in the press about teams. A college commitments section also highlights the middle portion of the website. This past season, the NAHL had over 150 NCAA commitments, with two-thirds of those to NCAA Division I schools.

The site will be the official source for scores and statistics provided by Pointstreak and additional features such as: the Combat Hockey 3 Stars of the Week and Players of the Month, Brian's Custom Sports Goaltenders of the Month, Gongshow Hockey Flow of the Month, as well as the maps and history of the league, live video broadcasts with FASTHockey, tryout information, hotel and rental car information for all league events and information on league partners and suppliers.

"It is important and necessary for our players, coaches, teams, scouts, media, parents, friends and fans to have a singular, legitimate and credible source of information that accurately displays the news regarding the NAHL and its member teams," said NAHL Commissioner Mark Frankenfeld. "I believe our new website is not only very user-friendly, but also adapts with the growing need for instant online information that can be accessed anytime from anywhere."

The NAHL website was developed by NAHL webmaster John Elftmann.

The NAHL's 36th season begins on Friday, September 9th with two regular season games. The Jamestown Ironmen will make their debut when they go on the road to face the Chicago Hitmen at the Hitmen's new home at Fox Valley Ice Arena in Geneva, Illinois. Meanwhile, the Fairbanks Ice Dogs begin defense of their Robertson Cup title as they travel to Kenai River to take on the Brown Bears. All games can be watched live and in video clarity on the official broadcaster provider of the NAHL, FASTHockey.

The NAHL Showcase Tournament, presented by Combat Hockey begins on Wednesday, September 14th. All 28 NAHL teams will play four regular-season games at the Showcase, which has evolved into one of hockey's most prestigious and well-attended events of the entire season. The event will also feature 44 teams from the Tier I North American Prospects Hockey League (PHL), eight teams from the Tier III junior North American 3 Hockey League (3HL) and eight additional teams from the Upper Midwest High School Elite League, who will complete the five-day, 90-team showcase event.