Sunday Wrap-Up: RoadRunners complete two-win weekend
October 12, 2020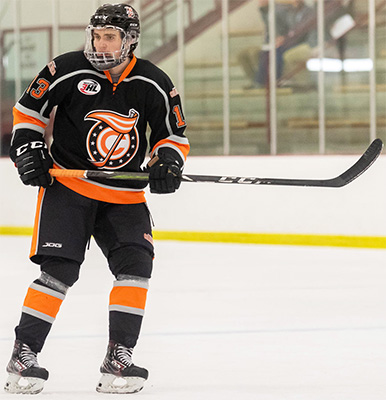 Mid Cities 1 @ TX RoadRunners 6 - Kai Rock struck for Mid Cities early in this one, but the offense stopped there for the Stars as the RoadRunners rattled off six unanswered goals for a 6-1 win on Sunday. Jacob Norwood, Michael Conover, Tim Marsico, Tayten Lewis, Derek Boutin and Seth Payson drove the Texas offense with a goal apiece, and Hunter Hein turned aside 28 shots between the pipes. Mid Cities' Nathan King was outstanding in net despite the loss, stopping 42 shots in a busy game.
Northeast 6 @ Danbury 7 - The final game of the weekend was also one of the most thrilling, as the Jr. Hat Tricks erased a 6-3 deficit with four unanswered goals in the final 25 minutes of play for a 7-6 victory over the Generals. Brandon Cope (2g, 2a) and Nicholas Rogers (2g) spearheaded the Danbury comeback, while Cole Madzey, Dylan Webber and Kolby Donovan each chipped in goals as well. Northeast saw Matthew Coe and Drew Schemmel push the team with two goals apiece, as well as individual strikes from Jacob Kosinski and Payton Felix, but fell just short. Landon Palmer earned the win in net, stopping 29 shots for Danbury, while the duo of Espen Reager and Timothy Pesek stopped 20 total shots for Northeast.
Louisiana 1 @ Oklahoma City 6 - Artem Korolev (3g, 2a), Michael Onda (2g, 3a) and Noah Henslee (1g, 4a) carried the flag for the Blazers with five points apiece in an impressive 6-1 win over the Drillers to close out the weekend series. Jarret Perino was stellar in the OKC net as well, stopping 24 shots and conceding only to Louisiana's Brendan Krawczyk. Drillers goaltenders Kyle Karoleski and Jacob King posted a combined 31 saves in net.
Bay State 1 @ Long Beach 5 - The Sharks roared out to a 2-0 lead early and never looked back, topping the Bobcats 5-1 to pick up their first win on the year. Zane Mojzer led with a pair of goals, joining Xzia Fogelgren, Stephen Papp and Sam Brickley on the scoresheet. Damon Polk nabbed Bay State's goal, as Tyler Robertson turned aside 21 shots in net, but Long Beach's Greyson Skirpan was stellar between the pipes with 39 saves for the victory.