Titans win first ever NA3HL game, 4-3
October 15, 2020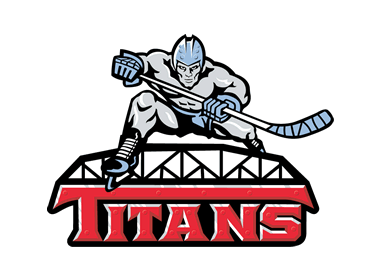 New Jersey 4 @ Danbury 3 - Brandon Avezov had two goals and two assists to lead the visiting New Jersey Titans to a 4-3 win over the Danbury Jr. Hat Tricks on Thursday for the first win the NA3HL team's history.
Titans defenseman Colin Driscoll scored the first goal in franchise history just 3:01 into the opening period. With 1:41 remaining in the period, Avezov scored his first goal of the game on a beautiful setup by Philippe Doucette to make it 2-0.
Brett Bell give the Titans a commanding 3-0 lead just 1:34 into the second period. Just six seconds later, Danbury got on the board. After the ensuing faceoff won by Connor Brown, Kyle Madigan entered the New Jersey Zone, he took a clapper that beat Titans goaltender Ethan Kavanaugh long side to make it a 3-1 game. Less then two minutes later the Titans regained their three-goal lead as Avezov buried a rebound into the open net to give the Titans a 4-1 lead. At 4:33 of the middle stanza, Brandon Cope cut the Titans lead in half as took a slapshot that found its way through a screen and past Kavanaugh to make it a 4-3 game.
Madigan scored his second goal of the game just 1:42 into the third period to close the Titans lead to one but it wasn't enough as New Jersey held on for its first win.
Nathan Hadley turned aside 24 of 28 shots while Alex Tysymbalyuk (who left the game due to a leg injury) and Ethan Kavanaugh combined to stop 49 of 52 shots.