Saturday Scores: Leaders start to separate from pack
October 18, 2020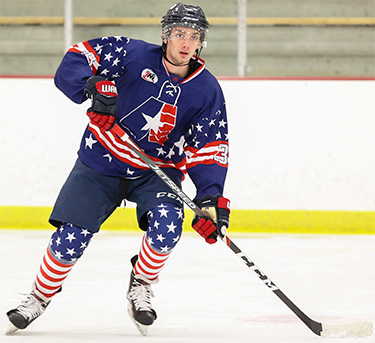 New Ulm 1 @ North Iowa 6 - Another West power in North Iowa was flexing its muscle Saturday night, as the Bulls stampeded over the Steel 6-1. A balanced effort carried North Iowa in this one, featuring goals from Brayden Uttech, Carter Newpower, Shota Kaneko, Brady Snedden, Garrett Freeman and Lucas Bellig, as well as 21/22 saves from Joe Daninger in net. James Spaargaren nabbed the lone New Ulm marker, with Zac Hattan putting in a solid shift to stop 24 pucks in net.
Willmar 1 @ Granite City 6 - The Lumberjacks' might shone through on Saturday night as they cruised past the Warhawks 6-1 at home. Carson Simon led the way with two goals, joining Charlie Erickson, Troy Dahlheimer, Wyatt Halverson and Jonah Jangula on the scoresheet. Granite City goaltender Tim Pundt filled in nicely in this one, stopping 16 of 17 shots in the win and conceding only to Willmar's Michael Sweetland. Hunter Burian of Willmar was also a steady force in net despite the scoreline, stopping a stout 37 shots between the pipes.
Gillette 4 @ Great Falls 5 - A wild, fast-paced five-goal first period turned into a marathon in Great Falls, where the Americans slipped past the Wild 5-4 thanks to Connor Doyle's shootout heroics. In regulation time, Cole Komarek, Blake Nerney, Nick Jensen and Jeremiah Serino scored for Great Falls, while Trever Mellen stopped 31 shots in net. Gillette received goals from Declan Young, -- who led all skaters in the game with two goals and one assist -- Carter Merritt and Austin Newson, alongside 27 saves from goaltender Luc Haggitt.
Peoria 3 @ Oregon 4 OT - After Peoria raced out to a 3-0 lead, Oregon quickly responded with three goals of their own to force OT, where Jacob Best played hero to give the Tradesmen a 4-3 win over the Mustangs in the extra frame. In the first 12 minutes of play, Luca Goulding, Connor Bennett and Ethan Chesney each scored for Peoria to give them a healthy lead, but Devin Hays got one back for Oregon before the end of the period. In the second stanza, Gunnar Schiffmann struck just before the midway mark, and Hays added a second marker fewer than 30 seconds later to knot things up. A scoreless third set up OT, where Best and Parker Severson played a lovely give-and-go passing play for the winner. Hunter Adams took the win between the Tradesmen pipes, outdueling Brendan Donovan of Peoria at the other end.
Louisiana 1 @ TX Brahmas 5 - Last season's top team picked up right where they left off on Saturday, as the Brahmas eased past the Drillers 5-1 in their opening contest. Michael Dalaly, Jacob Kalandyk, Danny Barry, Luke Busher and Blake Rothstein fueled the high-octane Texas attack, while Frank Steinway put Louisiana on the board. Dolan Gilbert earned the win with 28 saves for the Brahmas, but the busiest man on the ice was Louisiana goaltender Kyle Karoleski, who faced down 45/50 shots at the other end.
Atlanta 7 @ Mid Cities 0 - The Capitals again ran right over the Stars on Saturday, as Greg Smith's seven-save shutout and a 2g, 1a effort by Eddie Slack pushed Atlanta past Mid Cities 7-0 for a second consecutive evening. Nicholas Cyprian put on a show as well for Atlanta, with a goal and three helpers, while Vyacheslav Nilov, Chris McClorey, Kirill Nikulichev and Lou Decola rounded out the offense. Stars netminder Sean Guerin faced down 34 shots in net.
TX RoadRunners 0 @ Oklahoma City 4 - After slamming the door on the RoadRunners Friday night, the Blazers again shut down their opponents with a 20-save shutout from Jacob Ahl and goals from four different skaters in a 4-0 victory. Michael Onda, Hunter Warner, Noah Henslee and William Wallace provided the offense in this one, with Artem Korolev chipping in three helpers along the way. Texas goaltender Hunter Hein turned aside 22 shots in the loss.
Milwaukee 2 @ St. Louis 4 - The Jr. Blues snapped back into form with their first win of the season on Saturday, knocking off the Power 4-2 on the back of some stellar goaltending by Owen Carlson, who finished with 42 saves in net. Jackson Henningsgard, Derrick Brown, Tommy Ramer and Jared Bratton fueled the Jr. Blues' attack, while Riley Cassada and Garrett Alton netted for Milwaukee. Jackson Broussard faced 40 shots in the Power cage, stopping 36 of them.