Friday Finals: Win puts Power among Central contenders
October 24, 2020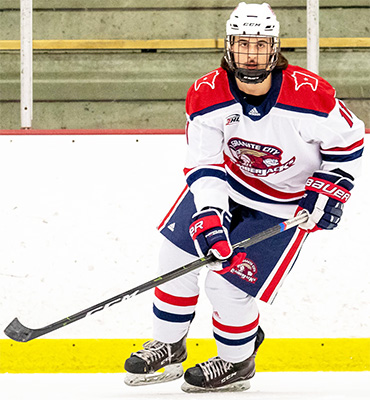 Wausau 4 @ Milwaukee 6 - Two goals from Teddy Marion and Brady Rossbach and a three-goal period saw the Power through to a tense 6-4 win over the RiverWolves on Friday. Maxwell Erstad and Garrett Alton also scored for Milwaukee, while Isaac Wickersheim's double and individual strikes by Caeden Phelps and Garrett Geddes put Wausau on the board. Despite the scoreline, both netminders were impressive on Friday, as Milwaukee's Zach Piehl turned aside 44 of 48 shots and Wausau's Joseph La Forge stopped 54 of 60 in the loss.
Granite City 4 @ Alexandria 1 - Nolan Westra put the Blizzard ahead early, but four straight Lumberjacks goals gave them the 4-1 win in Alexandria Friday night. Troy Dahlheimer, Carson Simon, Charlie Erickson and Cody Dias led the Granite City resurgence, as Bailey Huber stopped 27 straight shots after the Westra goal for the win. Bailey Rosch of Alexandria stopped 19 shots in the loss.
North Iowa 5 @ Willmar 3 - A pair of Austin Jozwick tallies saw the Warhawks ahead 2-1 after two periods, but the Bulls roared back with a 4-1 third period to ultimately take a 4-3 victory in Willmar. Jack Campion put North Iowa on the board first in this one, while Hayden Fox, Nick Mohs-Messerli and two Brayden Uttech goals put the game to bed in the third. Michael Sweetland netted another for Willmar, but Joe Daninger was largely unflappable in the North Iowa net as he stopped 33 of 36 for the win. Luke Weberg put in a solid shift for Willmar with 26 saves on 31 shots.
Northeast 5 @ Bay State 4 - In what turned out to be quite the thrilling affair, the Generals saw a 4-1 lead vanish in the third period, only to net the game-winner late for a 5-4 victory over the Bobcats. After a scoreless first, Sean Loftus, Gabe Stoner and Sean Gorman each struck in the second period to eclipse Thomas Hoffman's marker for Bay State and give Northeast a 3-1 lead through 40 minutes. Payton Felix appeared to lock things down for Northeast with a goal early in the third, but three straight Bobcats goals from Ian Skinner, John Kosa and Troy Harwell -- who found twine with just 37 seconds remaining in the game -- knotted things up at four. But just for one more twist in this one, Nicklaus Obourn restored the Generals advantage with 17 seconds to play, sealing the regulation time victory for the visitors. Timothy Pesek earned the win between the pipes in this wild tilt, stopping 26 shots and outdueling Zack Roncarati and Nathan Moffitt of Bay State, who combined for 56 saves on the night.
Mid Cities 2 @ Louisiana 5 - Josh Hrip and Brendan Krawczyk each scored twice, Kyle Karoleski stopped 15 of 17 shots and the Drillers cruised to another victory, this time 5-2 over the visiting Stars. Noah McDonald nabbed the other Louisiana tally, while Tanner Daly and Aaron Best lit the lamp for Mid Cities. Nahuel Veyan was strong in the Stars' net, stopping 44 of 49 shots despite the loss.
Atlanta 4 @ TX RoadRunners 0 - Reigning South Division Star of the Week Greg Smith was at it again on Friday, stopping all 26 Texas shots that came his way to guide the Capitals to a 4-0 win over the RoadRunners. Jed Morone, Chris Walker, Kirill Nikulichev and Liam Moore provided the offense in this one, peppering Texas' Hunter Hein, who finished with 50 saves on the night.
Long Beach 1 @ New Jersey 4 - The Titans' strong start to life in the NA3HL continued on Friday, as two Brandon Avezov goals and a 27-save performance from Ethan Kavanaugh guided them to a 4-1 victory over the Sharks to move to 3-1-0 on the year. Brett Bell and Philippe Doucette rounded out New Jersey's offense in this one, while Vincent Feeley grabbed the lone Long Beach goal. Artem Lantukh faced down 29 shots in the Sharks' cage.
Bozeman 6 @ Yellowstone 3 - Two goals apiece by Luke McKay and Hunter Maschke, as well as 30 saves by AJ Cohen, saw the Icedogs cruise past the Quake 6-3 on Friday. After Yellowstone's Mason Merager canceled out Maschke's first of the game in the first period, the Icedogs exploded for four goals in the second period as Maschke netted his second, McKay potted both of his goals, and Justin Hayward added the fourth. Jack Harris struck back for a pair of Quake goals in the third, but Tanner Klockzo's third-period goal for Bozeman put the game away. Yellowstone's Connor Carroll stopped 32 of 27 shots in the loss.