Friday Finals: Grizzlies return with win to stay perfect
October 31, 2020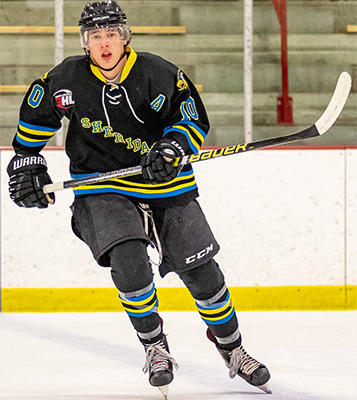 Milwaukee 1 @ Rochester 3 - His shutout bid came to an end with just over a minute to play in the game, but Shane Soderwall's 27-save performance proved more than enough to guide his Grizzlies past the Power 3-1 on Friday. Thomas Kayner, Matthew DeRosa and Peyton Hart lit the lamp for Rochester, while Tyler Nelson posted the Power goal. Scott Bird was a busy man in Milwaukee's crease, turning aside an impressive 41 of 44 shots despite the loss.
Sheridan 9 @ Yellowstone 0 - The Hawks' high-flying offense came alive in Friday's tilt, lighting up the Quake for a 9-0 victory in Cody. James Downie was stellar in the Sheridan net, posting a 35-save shutout to ensure the victory. Justin Schwartzmiller and Logan Syrup each netted twice for the Hawks, joining Jonathon Teasdale, Blake Billings, Zach Brydges, Stepan Ruta and Luke Desmarais on the scoresheet. Hudgel Selk was quite busy between the Quake pipes on Friday, stopping 39 of 48 shots in the loss.
Helena 2 @ Missoula 5 - Pablo Frank scored twice in a four-goal third period for Missoula to help them knock off the Bighorns 5-2 at home on Friday. Maxim Currie made 21 saves in the Bruins' net to backstop the win, as Mason Mowat, Liam Bland and Zane Cluphf rounded out the Missoula scoring. Alex Bailey grabbed both Helena goals, with Kevin Taunton facing down 29 pucks in goal.
Northeast 2 @ New Jersey 5 - Brandon Avezov's hat-trick led the way as the Titans raced out to a 4-0 lead and never looked back to top the Generals 5-2 on Friday. David Posma and George Haigley joined Avezov on the scoresheet for New Jersey, while James Clarke and Drew Schemmel provided the Northeast offense. Ethan Kavanaugh earned the win with 39 saves in the Titans' net, outmatching Timothy Pesek's 22-save effort at the other end.
Louisiana 0 @ Atlanta 5 - Another week, another Greg Smith shutout, this time with 19 saves to help the Capitals oust the Drillers 5-0. Eddie Slack, Nick Longsdorf, Chris Walker, Ryan Berke and Chris McClorey provided the offense in this one. Louisiana goaltender Kyle Karoleski faced a barrage in net, stopping 31 of 36 shots against in the loss.
Alexandria 5 @ New Ulm 3 - Two goals from Sean Kenny, three assists from Cole Lehmann and 26 saves from Bailey Rosch helped the Blizzard edge out the Steel 5-3 in a seesaw contest on Friday. Colin Tushie, Austin McNeil and Cole Klingbeil each scored for Alexandria as well, while James Spaargaren, Zach Maillette and Tommy Michelsen provided the Steel attack. Griffin Foster stopped 30 pucks in the Steel cage.
North Iowa 13 @ Willmar 3 - The Bulls were at their high-scoring best Friday night, logging double-digit goals in a comfortable 13-3 rout of the Warhawks in Willmar. Two goals apiece from Jack Campion and Sota Isogai, along with individual markers from Garrett Freeman, Isaac Lindstrom, Lucas Jorgenson, Sean Sullivan, Max Savaloja, Dalton Saltness, Carter Newpower, Shota Kaneko and Carter Eha led the Bulls to victory, with Evan Babekuhl stopping 22 of 25 shots to backstop the win. Owen Thomas, Drew Sandy and Cayden Sunde put Willmar on the board in front of a combined 20 saves by Luke Weberg and Hunter Burian in net.
Bozeman 6 @ Butte 1 - Six different skaters hit the scoresheet and Brandon Keeney picked up the win in net as the Icedogs cruised past the Cobras in Butte. Luke McKay, Landon Frost, Kamden Sengheiser, Tae Evans, Hunter Maschke and Kadyn Fennll propelled Bozeman's offense in this one, easily eclipsing Robby Arver's lone strike for Butte. Thoman Neal tended the crease for Butte in the contest.