Sunday Wrap-Up: Brahmas, Tradesmen, Capitals win on Sunday
November 2, 2020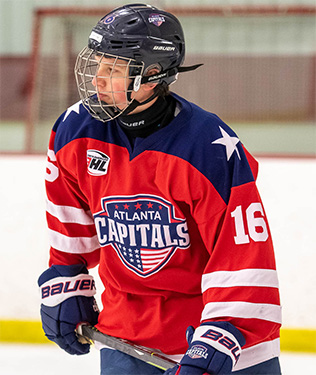 TX RoadRunners 2 @ TX Brahmas 4 – Following up a 10-1 win on Saturday, the Brahmas completed a weekend series sweep with a 4-2 win on Sunday. The Brahmas jumped out to a 2-0 lead with goals from Blake Rothstein in the 1st period and Tyler Blanchard in the 2nd period. The RoadRunners made it a 2-1 contest with a goal later in the 2nd period from Brice French. The Brahmas regained their two-goal edge in the 3rd period with a goal from Michael Imala. The RoadRunners cut into the lead again with a goal from Ethan Sodoma, but a late tally from Jacob Kalandyk made it a 4-2 final. Brahmas goalie JP Marinaro made 18 saves in the win, while Hunter Hein made 26 saves in the loss.
Louisiana 2 @ Atlanta 5 – The Capitals avenged their first loss of the season, which came on Saturday, with a 5-2 win on Sunday. Things looked good for the Drillers early as they took a 2-0 lead with 1st period goals from Evan Eberlein and Landen Sill. The Capitals stormed back with a 2nd period goal from Nikita Pecheritcyn and four goals in the 3rd period, including a hat-trick from Nicholas Cyprian and another goal from Gunnar Moore. Greg Smith made 22 saves in the win, while Jacob King made 37 saves in the loss.
Oregon 3 @ St. Louis 2 (OT) – The Oregon Tradesmen salvaged a weekend road split with the St. Louis Jr. Blues thanks to a 3-2 overtime win on Sunday. After a scoreless 1st period, the Jr. Blues took a 1-0 lead early in the 2nd period with a goal from Joey Solimando. The Tradesmen then responded with two goals from Parker Severson to take a 2-1 lead into the 2nd intermission. The Jr. Blues tied the game at 2-2 with a 3rd period goal from Solimando, his second goal of the game. In the overtime, Sam VanderHoeven jabbed home a loose puck from the side of the net for the game-winner. Eli Bowers made 24 saves in the win, while Owen Carlson made 32 saves in the loss.