Sunday Wrap-Up: Brahmas stay hot with sweep
November 9, 2020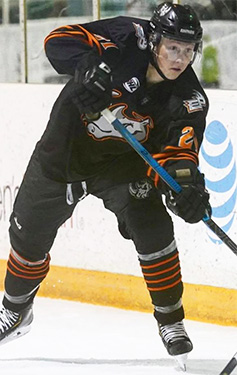 TX Brahmas 3 @ TX RoadRunners 2 – The Brahmas kept pace with the South Division leaders and won their fifth straight game as they edged the RoadRunners, 3-2 on Sunday. The Brahmas took an early 1-0 lead with a 1st period goal from Leevi Selanne. The RoadRunners responded with two straight goals from Tim Marsico and Michael Conover to take a 2-1 lead midway through the 3rd period. The Brahmas secured the win when Tyler Blanchard scored back-to-back goals late in the 3rd period to make it a 3-2 final. Levi Gho made 37 saves in the win, while Hunter Hein made 42 saves in the loss.
El Paso 9 @ Mid Cities 0 – The Rhinos won their opening weekend series against the Stars thanks to a convincing 9-0 win on Sunday. Jordan Belley stopped all 16 shots that came his way for his first NA3HL shutout and Jacob Robinson had two goals and two assists in the win. Robinson scored the opening two goals and Cole Schneider added another one in the 1st period. Pavel Bahtkin, John Mulluihill, Wyatt Allan, and Tristan Maestas all scored in the 2nd period to make it 7-0. Noah Easterson and Cooper Anderson added 3rd period goals to make it a 9-0 final. Sean Guerin made 46 saves in the loss.
Atlanta 3 @ Oklahoma City 1 – The Capitals regained control of the South Division and took home a series win against the Blazers thanks to a 3-1 win on Sunday. Capitals goalie Greg Smith made 31 saves in the win. The Capitals took an early 2-0 lead with 1st period goals from Ryan Berke and Nicholas Cyprian. The Blazers cut the lead down to one with a 2nd period power play goal from Noah Henslee, his 6th of the season. Late in the 3rd period, the Capitals secured the win thanks to the 10th goal of the season and second of the game from Cyprian. Blazers goalie Olivier Charbonneau made 23 saves in the loss.
New Ulm 1 @ Willmar 4 – The WarHawks picked up a much-needed weekend sweep of the Steel thanks to a 4-1 win on Sunday. WarHawks goalie Luke Weberg made 18 saves in the win. Willmar took a 1-0 lead with a 1st period goal from Ben Johnson. The lead swelled to 2-0 in the 2nd period as Michael Sweetland scored his 5th goal of the season. The WarHawks put the game out of reach in the 3rd period with goals from Ryne Mohrman and Louis Anders. The Steel spoiled Weberg's shutout bid with just five minutes left in the game on a power play goal from Nate Looft. Zac Hattan made 35 saves in the loss.