Northeast defenseman Kaminski signs NAHL tender
November 12, 2020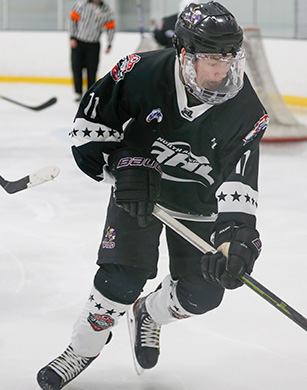 The Northeast Generals of the NA3HL are excited to announce that defenseman Jacob Kaminski has signed a North American Hockey League tender agreement with the NAHL's Northeast Generals.
Kaminski, 18, is currently in his third season of playing in the NA3HL and first with the Northeast Generals. Acquired in a trade with the Gillette Wild in the off season so he could play with his older brother Tyler, Jacob has been a stalwart on the backend.
His impact was immediate to the Coaching staff as he was named an Assistant Captain in training camp because of his strong work ethic and leadership skills. He brings a physical presence, good skating, a high IQ and good offensive ability. He has already chipped in 7 assists in the first 9 games this year after 21 goals, 43 assists for 64 points in 87 NA3HL games. He also has added 218 penalty minutes.
NA3HL Head Coach Darryl Locke said, "Jacob has been great from Day 1. He is a natural leader with a motor that doesn't quit. He holds himself to a very high standard which helps his credibility in the locker room as a leader, especially as a younger player. We have been fortunate to have had success sending kids between the NA3 and NA program. All of our NA3 to NA tenders have performed well and I expect Jacob to have an immediate impact just like those before him. Really happy for Jacob and look forward to him helping lead this young team to a division title before advancing next year to the NAHL."
NAHL Head Coach Bryan Erikson added, "Obviously when we sign players or trade for players we do it with one eye on their performance with the NA3HL team and one eye on their ability to move up within our organization. Jacob is one of several players on the NA3HL Generals that we feel has a good chance to compete at the NA level next year or in the near future. Jacob has great instincts, does a great job of supporting his D partner and is a relentless worker. I think he will fit in very well at the NA level next year. He also has that great mean streak that will serve him well. Very excited to work with him this year and to see Coach Locke help him improve. Darryl does such a great job getting guys ready to play at the next level and I know he will have Jacob ready to go."
Click here for a list of 2020-21 NA3HL tenders
A tender is a contract, of sorts, a player signs announcing his intentions to play for that particular NAHL team and that NAHL team only. Once a player signs a tender with an NAHL team, his playing rights belong to that team within the NAHL and he may not be recruited by any other NAHL team. Each team is granted ten (10) tenders, which includes one tender exclusively used on players from the NA3HL - plus or minus any trades - which became active on Nov. 1. Tendered players are not eligible for the 2021 NAHL Draft.