Sunday Wrap-Up: Hawks, Downie stay hot with shutout and sweep
November 16, 2020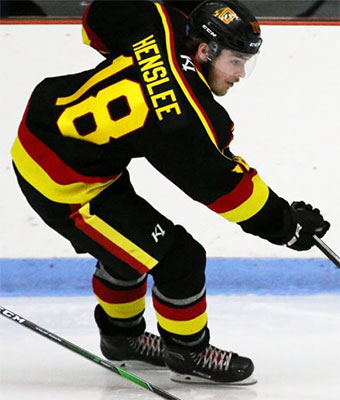 Bozeman 0 @ Sheridan 5 – Hawks goalie James Downie stopped all 26 shots that came his way for his fourth straight shutout of the season as the Hawks won their 7th straight game with a 5-0 shutout of the Icedogs. Jacob Cummings and Justin Schwartzmiller each had two goals and two assists in the win. Schwartzmiller and Lucas Gudz both scored in the 1st period to put Sheridan ahead, 2-0. Cummings then scored both of his goals in the 2nd period to increase the lead to 4-0. Schwartzmiller then added a goal early in the 3rd period to make it a 5-0 final. Bozeman goalie AJ Cohen made 48 saves in the loss.
Oklahoma City 6 @ TX RoadRunners 2 – The Blazers won their third straight game and took over sole possession of 1st place in the South Division thanks to a 6-2 win in College Station on Sunday over the RoadRunners. Noah Henslee had a hat-trick to lead the Blazers to the win and sweep of the series. Texas scored first on a goal from Seth Payson. The Blazers answered back with goals from William Wallace and Robby Rabroker to take a 2-1 lead after one period. In the 2nd period, Henslee got things going with two goals to give the Blazers a 4-2 lead after two periods. In the 3rd period, Henslee added his third of the game and Samuel Miller also scored. Tim Marsico had the other goal for the RoadRunners, which was his 7th of the season. Blazers goalie Olivier Charbonneau made 36 saves in the win, while RoadRunners goalie Cailean McDonald made 42 saves in the loss.
Long Beach 5 @ New Jersey 4 (SO) – The Sharks claimed the win as the Titans almost completed a winning comeback effort in a back-and-forth game on Sunday. The Titans got the scoring started with a 1st period goal from Michael Macieri. The Sharks seized control of the game in the 2nd period as they scored four times to take a 4-1 lead, which included goals from Zan Mojzer, Joseph Mattson, Stephen Conklin, and Gavin Dempsey. The Titans stormed back in the 3rd period with three goals to tie the game at 4-4, which included two from Philippe Doucette and another from Brandon Avezov. In the shootout, Zane Burnside scored the decider after eight shooters per team had gone. Long Beach goalie Greyson Skirpan made 43 saves in the win, while Ethan Kavanaugh made 35 saves in the loss.