Titans come-from-behind to edge Sharks in OT
November 19, 2020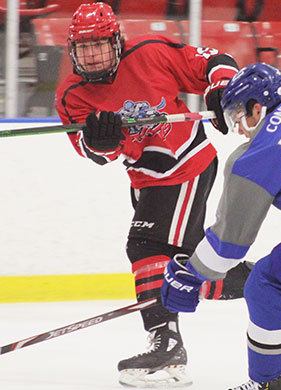 New Jersey 4 vs. Long Beach 3 (OT) - Brandon Avezov scored sixteen seconds into overtime to give the New Jersey Titans a 4-3 win over the Long Beach Sharks on Wednesday. The Titans were trailing 3-1 with two minutes remaining in regulation and scored two goals to force overtime.
Jonah Sabatini got the Titans on board just 5:17 into the opening period. With 6:53 left in the period, Long Beach knotted the score as Gavin Dempsey tucked in the rebound past Ethan Kavanagh to make it a 1-1 game. Thirty-six seconds later the Sharks made it 2-1 as Zan Mojzer took a sharp angle shot that beat Kavanagh short side for his fourth goal of the season.
The Sharks took a two-goal lead just :29 into the middle stanza as Kavanagh made a save from the point, but Mojzer picked up the rebound and put it past the fallen Titans netminder and into the net to make it a 3-1 game.
With 2:01 left in the third period, Avezov scored his first goal of the game to bring the Titans within one. A minute later, Sabatini scored his second goal of the game to send it into overtime.
After the ensuing faceoff to start the overtime, Kavanagh made a glove save to have a faceoff to his blocker side. Sabatini won the draw deep inside his own zone and the puck game out to Avezov who skated through center ice and into the offensive zone. As he gained the line, he was knocked off the puck, but Sabatini picked it up and went towards the net. He took a shot that went wide but the rebound came right out to Avezov in the slot and he tucked in the rebound past Artem Lantukh to win the game just :16 into extra period.
Kavanagh stopped 17 of 20 shots while Lantukh turned aside 28 of 32.