Saturday Scores: Jr. Bruins keep pace with Frontier leaders with win
November 29, 2020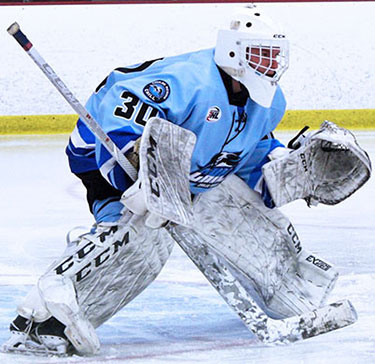 Missoula 5 @ Great Falls 3 - A trio of starring offensive efforts helped the Bruins take a 5-3 win over the Americans in a battle of Frontier heavyweights on Saturday night. Trevor Prince and Pablo Frank each posted two goals and two assists in the win, and Liam Bland nabbed a goal and a whopping four helpers of his own. Those three accounted for nearly all of Missoula's offense -- defenseman Owen Miley chipped in another two assists. Alex Jackson stepped up for Great Falls with two goals in the loss, joining Henry Chavez on the Americans' side of the scoresheet. In net, Maxim Currie's 25 saves earned Missoula the victory, outdueling Trever Mellen's 22 stops for Great Falls.
Wausau 0 @ Oregon 7 - Michael Janke posted a 31-save shutout in his 2020-21 season debut and seven different skaters found twine as the Tradesmen dismantled the RiverWolves for a 7-0 win on Saturday. Dylan Dent, Zane Van Zeeland, Henry Slager, Brent Edmondson, Devin Hays, Payton Stauffacher and Parker Severson provided the offense in this one, as Wausau netminders Gunnar Snyder and Dylan Baker combined for 37 saves in the loss.
Butte 1 @ Bozeman 5 - The Icedogs built up a comfortable lead and never looked back on Saturday, topping the Cobras 5-1 on the back of a balanced attack and 32 saves from Brendan Pellerito. Tae Evans, Eric Thompson, Luke McKay and Kai Kingery lit the lamp for Bozeman, while Randy Yeakley posted Butte's lone goal. Tommy Near stopped 31 of 35 shots in the Cobras' cage.
Gillette 3 @ Sheridan 8 - The high-flying Hawks again ran rampant against the Wild, breaking a 1-1 game wide open with a five-goal second period and riding two-goal performances from Lucas Gudz, Blake Billings and Jacob Cummings -- who also bagged three assists for his second consecutive five-point outing -- to an 8-3 victory at home. Peyton Kesselhon and Jonathon Teasdale also netted for Sheridan, while Tristan Baker's double and an individual strike from Declan Young put Gillette on the board. Luke Fundator turned aside 32 of 35 in net for the win, while Gillette's Cole Wheaton was a stud despite the scoreline, stopping 51 of 59 pucks on the night.