NA3HL announces Stars of the Week presented by Bauer Hockey
December 1, 2020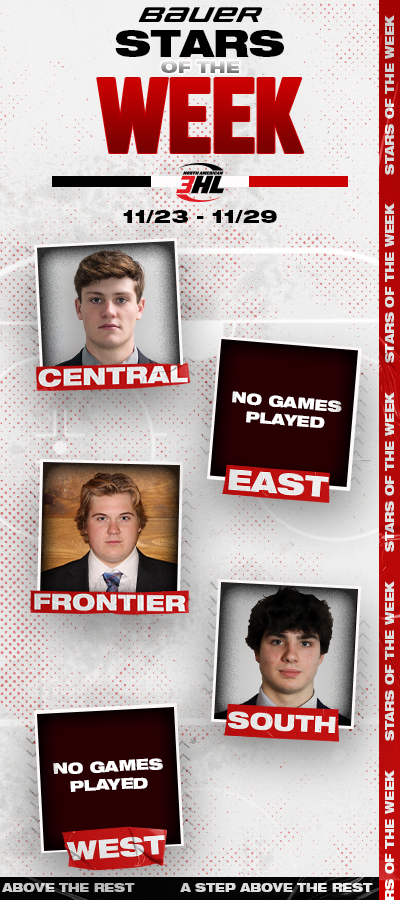 The North American 3 Hockey League (NA3HL) today announced the Divisional Stars of the Week presented by Bauer Hockey for the week ending November 29, 2020. The divisional stars of the week are awards given each week of the regular season to the top-performing players in each of the five divisions of the NA3HL as nominated by their head coaches.
Central Division Star of the Week: Devin Hays, F, Oregon Tradesmen
Hays and the Tradesmen saw limited action this week, but the 2000-born native of Erie, CO made his mark with four points in Saturday's win over Wausau. After notching assists on three goals during the first two periods, Hays capped off his explosive outing with the final goal of the game midway through the third. After recording just a single goal in his prior four games, Hays' outburst pushes his season totals to 4g-5a—9pts in 11 games this season.
2nd Star: Joey Fodstad, F, Rochester Grizzlies
Honorable Mention (alphabetical): Michael Janke, G, Oregon Tradesmen — Ethan Noonan, D, Rochester Grizzlies
East Division Star of the Week: No Games Played
Frontier Division Star of the Week: Jacob Cummings, F, Sheridan Hawks
Cummings' high-flying start to the season has seen him lead the league in points from day one, and back-to-back five-point outings this week show just how dangerous the Hawks' playmaker can be. Friday's victory over Gillette saw Cummings nab a hat-trick — surprisingly his first of the season — and two assists to pace a 9-3 win. His second of the game marked another season first for Cummings, as his strike stood as the game-winner. On Saturday, Cummings notched two more goals and three helpers, marking his sixth consecutive multi-point outing. With 10 more points to his name, Cummings now boasts a league-high 14g-30a—44pts in just 11 games.
2nd Star: Trevor Prince, D, Missoula Jr. Bruins
Honorable Mention (alphabetical): Tristan Baker, F, Gillette Wild — Liam Bland, F, Missoula Jr. Bruins — Zach Carson, D, Sheridan Hawks — Connor Doyle, D, Great Falls Americans — Vincent Marroni, G, Great Falls Americans
South Division Star of the Week: Benjamin Mondou, F, Texas Brahmas
Opening the week's action, Mondou and the Brahmas hosted the Jr. Stars on Monday. The 2002-born Montreal native had something of a breakout game, coming off of a single goal in his first five outings of the year to post a stout 2g-1a—3pts line in Texas' 5-1 win over Mid Cities. Mondou grabbed the opening goal of the game just under five minutes after the puck was dropped, then set up the insurance tally four minutes later. Capping off his first multi-point game of the year, Mondou lit the lamp again midway through the second period, comfortably sealing the win. He now has 3g-1a—4pts in six games this year.
2nd Star: Seth Wyatt-Manning, D, Texas Brahmas
Honorable Mention (alphabetical): None
West Division Star of the Week: No Games Played