Brahmas complete sweep of Capitals on Sunday
December 7, 2020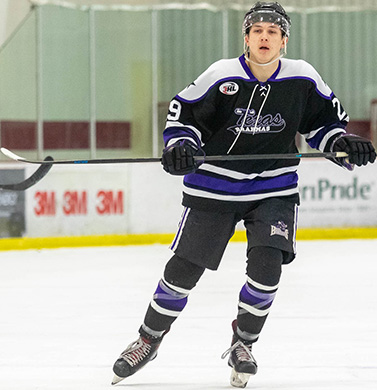 Atlanta 2 @ TX Brahmas 4 – Tyler Blanchard, Jack Cooper and Jacob Kalandyk each had a goal and assist a piece as the Brahmas completed a two-game weekend home sweep of the Capitals thanks to a 4-2 win on Sunday.
The Capitals struck first and took a 1-0 lead in the 1st period as Vyacheslav Nilov scored his 6th goal of the season. The Brahmas took a 2-1 lead in the 2nd period with goals from Kalandyk and Cooper.
In the 3rd period, an early goal from Blake Rothstein made it 3-1 for the Brahmas. The Capitals cut into the lead to make it 3-2 as Ryan Berke scored his 3rd goal of the season, but a power play goal later in the period from Blanchard made it a 4-2 final.
Brahmas goalie Levi Gho made 28 saves in the win, while Greg Smith took the loss with 41 saves.