NA3HL announces Stars of the Week presented by Bauer Hockey
December 15, 2020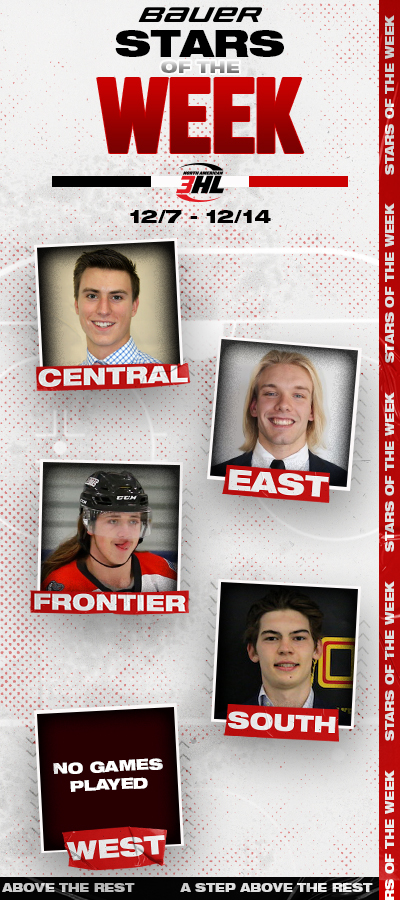 The North American 3 Hockey League (NA3HL) today announced the Divisional Stars of the Week presented by Bauer Hockey for the week ending December 14, 2020. The divisional stars of the week are awards given each week of the regular season to the top-performing players in each of the five divisions of the NA3HL as nominated by their head coaches.
Central Division Star of the Week: Peyton Hart, F, Rochester Grizzlies
The Grizzlies' defense picking up two shutouts over the Power this week certainly earn headlines, but Hart's offensive prowess guided Rochester's efforts at the other end of the rink. With 4g-2a—6pts in the back-to-back set, Hart stretched his point-streak to six games. His best game came on Saturday, when he bagged his first hat-trick and multi-goal game of the season en route to a 3g-2a—5pts night in a 5-0 victory. Add in his goal in the prior game on Friday, and Hart boasts goals in four of his last six outings. The Delafield, WI native is averaging more than a point-per-game pace this year, with an impressive 10g-7a—17pts in 15 games on the season.
2nd Star: Ethan Chesney, F, Peoria Mustangs
Honorable Mention (alphabetical): Connor Bennett, F, Peoria Mustangs — Matt DeRosa, F, Rochester Grizzlies
East Division Star of the Week: Carson Asper, F, Northeast Generals
Asper thrived as part of the Generals' record-setting top line in 2019, and picked up right where he left off this week as he played his first two NA3HL games of the year. After getting his feet wet with an assist in Saturday's win, Asper exploded for 2g-4a—6pts on Sunday to pace another Northeast victory. The Generals' veteran has a steep climb to catch up to last season's remarkable 103 points, but he's off to a strong start with 2g-5a—7pts in his first two outings of the year.
2nd Star: James Clarke, F, Northeast Generals
Honorable Mention (alphabetical): None
Frontier Division Star of the Week: Kyler Garsjo, F, Butte Cobras
Garsjo was unstoppable this week, scoring six goals in three games to carry the Cobras to their second and third wins of the season. On Friday, the Montana native grabbed the go-ahead and insurance goals in a 4-2 win over Missoula, before striking again in Saturday's tight loss to Helena. Monday saw Garsjo's best performance, though, as he posted his first hat-trick of the year — again netting the game-winner — to help Butte past Missoula once again. After a prolific 35g-41a—76pts in 46 games during his rookie season, Garsjo is again spearheading the Cobras' offensive efforts and is producing at a point-per-game clip with a team-high 11g-9a—20pts in 20 games in 2020-21.
2nd Star: Alex Bailey, D, Helena Bighorns
Honorable Mention (alphabetical): Tristan Baker, F, Gillette Wild — Gavyn Galloway, F, Helena Bighorns — Trever Mellen, G, Great Falls Americans — Declan Young, F, Gillette Wild
South Division Star of the Week: Artem Korolev, F, Oklahoma City Blazers
After just his third pointless outing of the season in his last game on Nov. 21, Korolev rebounded with a stunning 6g-3a—9pts across a back-to-back set against the Jr. Stars. Friday marked his best showing, as the Russian sniper bagged a whopping five goals and two assists in a comfortable win over Mid Cities. Korolev impressed again in the second matchup, logging another goal and a helper to pace Oklahoma City's victory. Korolev is off to a sterling start in the NA3HL, leading his team with 16g-22a—38pts in just 17 games — good for third among all NA3HL skaters.
2nd Star: Cole Schneider, F, El Paso Rhinos
Honorable Mention (alphabetical): Logan Bellar, F, Texas RoadRunners — Tyler Blanchard, F, Texas Brahmas — Noah Roitman, D, Oklahoma City Blazers — Leevi Selänne, F, Texas Brahmas — Myles Westbrook, D, Texas RoadRunners
West Division Star of the Week: No Games Played