Friday Finals: Bland's big night leads Missoula to OT win
January 2, 2021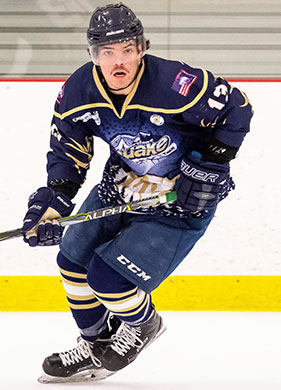 Missoula 5 @ Great Falls 4 (OT) – Missoula forward Liam Bland continued his hot play as he scored two goals, including the overtime-winner and added an assist as the Jr. Bruins knocked off the Americans, 5-4. The two teams traded goals throughout the game. Great Falls struck first in the opening period as Cole Komarek scored. Missoula took over the lead in the 2nd period with goals from Gavin Tritt and Kade Levins. The Americans tied the game at 2-2 with a tally from Micah Serino. In a wild 3rd period, Bland and Owen Miley scored for Missoula, while Bryson Fletcher and Alex Jackson scored for the Americans to send to game to overtime. Jr. Bruins goalie Will Hays made 46 saves in the win, while Ben Monsivais made 25 saves in the loss.
Gillette 3 @ Sheridan 6 – The Hawks won their 15th straight regular season game and took over sole possession of the lead in the Frontier Division thanks to a 6-3 win over the Wild. Zach Brydges was the star of the evening for the Hawks, recording a hat-trick in the win. After an opening goal in the game's first minute from Gillette's Brock Trboyevich, the Hawks rattled off four straight goals to take a 4-1 lead, which included two from Brydges and others from Stepan Ruta and Tony Brings. Declan Young then scored for the Wild to make it 4-2, but the third goal from Brydges put the Hawks ahead 5-2. Will Blake scored for the Wild in the 3rd period to make it 5-3, but a goal from Blake Billings secured the 6-3 win. James Downie and Luke Fundator combined for 25 saves in the win, while Cole Wheaton made 42 saves in the loss.
Bozeman 2 @ Yellowstone 5 – Dylan Rumpke and Jack Harris each had two goals and two assists as the Quake took home a 5-2 home win over the Icedogs. The game was even after one period as Rumpke scored the opening goal for the Quake with Tanner Klockzo answering for the Icedogs. In the 2nd period, Yellowstone regained their one-goal lead with a strike from Joe McCormick. Bozeman again had an answer with a goal from Dylan LaFontaine to make it 2-2. The Quake then scored the last three goals of the game, which included two from Harris and one more from Rumpke. Yellowstone goalie Connor Carroll made 35 saves in the win, while Bozeman goalie AJ Cohen made 29 saves in the loss.