Saturday Scores: Grizzlies, Mustangs win in race for Central supremacy
January 3, 2021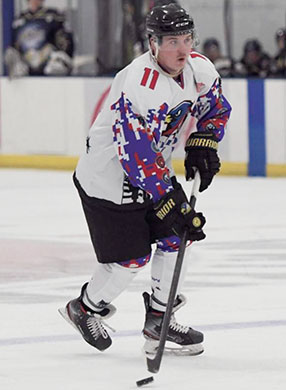 Rochester 6 @ Wausau 1 - The Central Division-leading Grizzlies flexed their muscles on Saturday night, scoring early and often in a 6-1 rout of the RiverWolves in Wausau. Teppei Ueno, Matthew DeRosa, Micah Gernander, Cody Reagle, Justin Wright and Peyton Hart provided the Rochester offense, while Caeden Phelps grabbed the lone Wausau goal. Shane Soderwall put in another nearly impeccable shift in the Grizzlies cage with 27 saves on 28 shots, while Joseph La Forge was equally impressive despite the loss, turning aside 48 of 54 pucks in Wausau's crease.
Gillette 3 @ Sheridan 6 - As the battle for the top spot in the Frontier continues to stay hot, Sheridan matched Great Falls' Saturday win with one of their own, riding a pair of goals apiece from Tony Brings and Simon Herz to a 6-3 win over the Wild. Jacob Cummings also starred for the Hawks, notching a goal and three assists, while Stepan Ruta posted the remaining Sheridan strike. Luke Fundator maintained a steady presence between the pipes with 30 saves for Sheridan, conceding only to Gillette's Carter Merritt, Declan Young and Caleb Sanborn. Alex Shaults faced down 32 of 37 shots in Gillette's loss.
Yellowstone 5 @ Bozeman 3 - Buoyed by two-goal efforts from Dylan Rumpke and Joe McCormick, the Quake avoided a late-game collapse to hold off the Icedogs for a 5-3 win in Bozeman. After Rumpke and McCormick helped Yellowstone to a 4-0 lead through two periods, Bozeman roared back with three goals in the third from Tanner Klockzo, Kamden Sengheiser and Kadyn Fennell, but the Quake's lead -- inflated by Austin Lawless' third-period strike -- proved insurmountable. Hudgel Selk was remarkable between the pipes for Yellowstone, posting a stunning 50 saves on 53 shots and outdueling the Bozeman pair of Evan Wittchow and Brendan Pellerito, who combined for 38 stops.
Helena 2 @ Great Falls 4 - Jake Hayes potted a pair for the Americans in the first period and Trever Mellen took over from there, stopping 28 of 30 shots on the night as the duo guided Great Falls past Helena 4-2 to keep pace in the Frontier Division. Dylan Ferriera and Gavyn Galloway got the Bighorns on the board in period two, but Great Falls' Alex Jackson and Cole Komarek canceled out those tallies in the same frame. Anthony Adleman matched up well to Mellen's stellar night, stopping 40 of 44 for the Bighorns despite the loss.
Butte 3 @ Missoula 7 - Mi-Kwan Tallman and Liam Bland each netted two goals, Maxim Currie stopped 23 of 26 shots and the Bruins eased their way past the visiting Cobras for a 7-3 win on home ice. Kyle Knoles, Denim Young and Gabe Gifford grabbed the other Missoula goals, while Jonah Gilbert, Zane Cluphf and Robin Bagley put Butte on the board. In net, the Cobras deployed both Mason Giordano and Griffen McAndrews, who combined for 48 saves on the night.
St. Louis 3 @ Peoria 4 - The Jr. Blues raced out to an early 2-0 lead, but four goals in the final forty minutes -- led by a pair from Thomas Kayner -- fueled the Mustangs' eventual 4-3 win over their visitors on Saturday night. Riley Howse and Jared Bratton got St. Louis off to a hot start in the first period, but Kayner's double quickly leveled the affair early in period two. Add in Peoria goals from Jaycob Bland and Reid Lune to eclipse Chase Morgan's marker for St. Louis late in the middle frame, and the Mustangs' victory was sealed. Cole Walter stopped 12 of 15 shots in the win, while Owen Carlson was a busy man for St. Louis with 34 saves on 38 shots.