NA3HL announces Stars of the Week presented by Bauer Hockey
January 5, 2021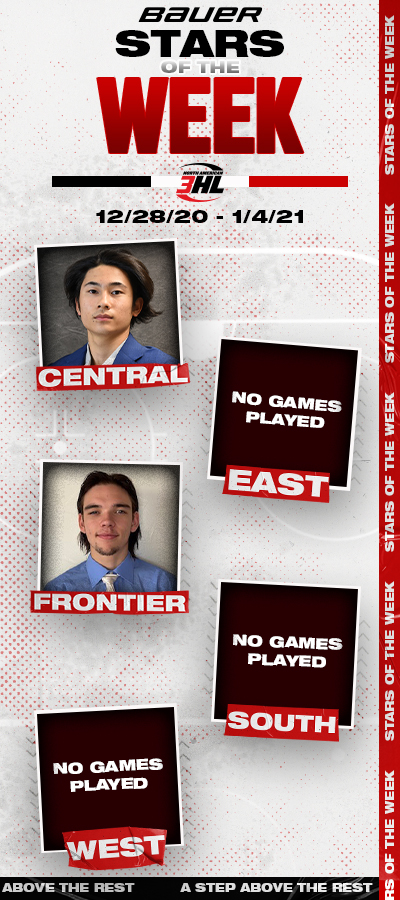 The North American 3 Hockey League (NA3HL) today announced the Divisional Stars of the Week presented by Bauer Hockey for the week ending January 4, 2021. The divisional stars of the week are awards given each week of the regular season to the top-performing players in each of the five divisions of the NA3HL as nominated by their head coaches.
Central Division Star of the Week: Teppei Ueno, F, Rochester Grizzlies
Ueno joined the Grizzlies in mid-December and finally got on the board with a pair of points in his team's lone matchup in Wausau this week — his third NA3HL game this season. The native of Nikko, Japan bagged the first goal of the game, then set up a teammate at the end of the second period to lead his team to a 6-1 win. After a stint with the NAHL's Austin Bruins earlier this year, Ueno looks to be a key part of the Grizzlies' championship hopes this season.
2nd Star: Ibrahim Arifi, D, Peoria Mustangs
Honorable Mention (alphabetical): Jared Bratton, F, St. Louis Jr. Blues — Thomas Kayner, F, Peoria Mustangs — Logan Kroyman, D, Rochester Grizzlies — Chase Morgan, D, St. Louis Jr. Blues
East Division Star of the Week: No Games Played
Frontier Division Star of the Week: Bryson Fletcher, F, Great Falls Americans
Fletcher has been instrumental in the Americans' charge towards the top of the Frontier Division lately, picking up 5g-6a—11pts in four consecutive multi-point games this week. The Californian ended 2020 with a pair of goals and an assist in a New Year's Eve win over Butte, then welcomed 2021 with another three points against Missoula. After chipping in another two assists on Saturday, Fletcher posted another 2g, 1a effort on Monday to close out a remarkable week. Fletcher enters the new week on a six-game point streak (5g-9a—14pts), and boasts 10g-19a—29pts on the year.
2nd Star: Jacob Cummings, F, Sheridan Hawks
Honorable Mention (alphabetical): Tony Brings, F, Sheridan Hawks — Jake Hayes, F, Great Falls Americans — Joe McCormick, F, Yellowstone Quake — Hudgel Selk, G, Yellowstone Quake
South Division Star of the Week: No Games Played
West Division Star of the Week: No Games Played