January 29, 2021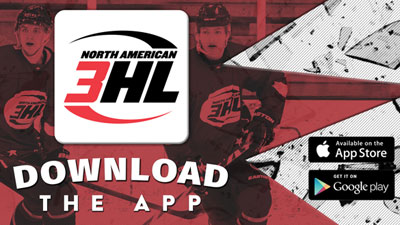 It is another busy weekend in the NA3HL as 23 games are on the schedule in all five divisions as the month of January comes to a close.
Things got started early on Thursday with Helena edging Missoula in Frontier action and St. Louis doubling up Oregon in Central Division action. St. Louis' winning streak is now at four in a row as they continue to try and climb the standings against Milwaukee. Division-leading Rochester faces Wausau for one game on Friday.
In the East, the Bay State Bobcats host both the Sharks and the Jr. Hat Tricks this weekend. In the Frontier, Bozeman will have the tough task of trying to slow down the Sheridan Hawks, who have won 22 straight games. Missoula continues their series with Helena, while Yellowstone is at Great Falls. In the South, Atlanta is in El Paso, the Drillers face the RoadRunners, and the DFW rivalry continues as the Brahmas face Mid-Cities. Finally in the West, Alexandria has a busy weekend with a game against Willmar and then two against Granite City. The New Ulm Steel are playing well and have road games in North Iowa and Willmar this weekend.
The NA3HL is in its 11th season in 2020-21 and serves as one of the top training grounds in the country by providing the best coaching, exposure and developmental vehicles available for student-athletes in Tier III junior hockey. It is one of only two USA Hockey-sanctioned Tier III junior leagues.
No other league has had more movement and advanced more players onto play in the NAHL than the NA3HL. Earlier this summer, not only did 27 NA3HL players sign a tender to play in the NAHL for the upcoming 2020-21 season, but 28 more players were selected in the 2020 NAHL Entry Draft on July 21st.
The NA3HL also continues to make its mark and is one of the leaders in junior hockey with the advancement of players onto the NCAA. So far in 2020, the NA3HL has over 120+ college commitments, with almost 70% of those being NCAA commitments.
Follow the games on the NA3HL App:
Download the iOS App Store version here
Download the Google Play version here
All games broadcast live on HockeyTV.
FRI, JANUARY 29
Louisiana at Texas RoadRunners - 6:15 PM CST
Wausau at Rochester - 7:05 PM CST
Alexandria at Willmar - 7:10 PM CST
New England at Bay State - 8:30 PM EST
Texas Brahmas at Mid Cities - 7:30 PM CST
New Ulm at North Iowa - 7:30 PM CST
Atlanta at El Paso - 7:00 PM MST
St. Louis at Milwaukee - 8:00 PM CST
Missoula at Helena - 7:05 PM MST
Yellowstone at Great Falls - 7:30 PM MST
Bozeman at Sheridan - 7:30 PM MST
SAT, JANUARY 30
Texas Brahmas at Mid Cities - 5:30 PM CST
Louisiana at Texas RoadRunners - 6:15 PM CST
Wausau at Rochester - 7:05 PM CST
Granite City at Alexandria - 7:10 PM CST
New Ulm at Willmar - 7:10 PM CST
St. Louis at Milwaukee - 7:30 PM CST
Atlanta at El Paso - 7:00 PM MST
Yellowstone at Great Falls - 7:30 PM MST
Bozeman at Sheridan - 7:30 PM MST
SUN, JANUARY 31
Springfield at Bay State - 12:30 PM EST
Alexandria at Granite City - 5:00 PM CST
Atlanta at El Paso - 4:30 PM MST