Friday Finals: Rhinos continue hot start
January 30, 2021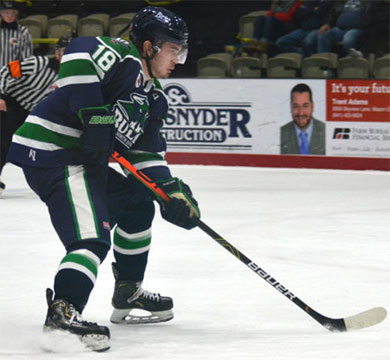 Atlanta 4 @ El Paso 9 - Easton Easterson's hat-trick and Luke Anderson's 2g, 2a effort helped the Rhinos outduel the Capitals for a 9-4 win in a wild, high-scoring battle. Noah Decker, Trey Erramouspe, Jacob Robinson and Tristin Maestas rounded out El Paso's offense in the win, with Rustam Kulizade stopping 12 of 16 shots in the crease. For Atlanta, Nick Cyprian led with two goals, Kirill Nikulichev and Dylan Slater chipped in with a goal apiece and Joe Pearson stopped 21 of 30 pucks in a tough loss.
Wausau 2 @ Rochester 7 - Ahead by one through two periods, the Grizzlies rattled off four unanswered in the final frame to take a comfortable 7-2 win over the visiting RiverWolves on Friday. Zach Wiese held down the fort in net with 12 saves on 14 shots, as Teppei Ueno, Joey Malugani, Joey Fodstad, Matthew DeRosa, Garrett Smith, Justin Wright and Max Clark provided the goals for Rochester, and Mason Thingvold picked up three assists as a key playmaker as well. Ethan Cumming grabbed both goals for Wausau, as Joseph La Forge stopped 39 of 46 shots in the loss.
Alexandria 1 @ Willmar 7 - Michael Sweetland and Gavin Uckele each scored twice, Will Pinney made 20 saves and the Warhawks cruised past the Blizzard 7-1 at home on Friday. Lewis Rowan, Jeremiah Konkel and Kaleb Miller rounded out the high-flying Willmar attack, while Austin McNeil potted the lone Alexandria goal. Joey Greilich was a busy man in the Blizzard cage, stopping 48 of 55 pucks in the loss.
Louisiana 3 @ TX RoadRunners 0 - Kyle Karoleski turned aside all 33 shots and Thomas Mougin led the way at the other end of the ice with two goals as the Drillers knocked off the RoadRunners 3-0 on the road. Josh Hrip grabbed the other Louisiana goal, while Texas' Christian Wong-Ramos made 43 saves on 46 shots.
New Ulm 2 @ North Iowa 10 - Ten different skaters lit the lamp as the Bulls rode a 17-save effort from Joe Daninger to a 10-2 win over the Steel at home on Friday. Getting in on the scoring for North Iowa were Jac Triemert, Garrett Freeman, Lucas Jorgenson, Sota Isogai, Jack Campion, Carson Jones, Nick Mohs-Messerli, Caden Smith, Carter Newpower and Hayden Fox, whiel Jake Saver and Zach Maillette put New Ulm on the board. Griffin and Zach Foster split duties in the Steel cage, stopping a combined 37 shots for the visitors.
NE Sharks 2 @ Bay State 3 (SO) - A tense back-and-forth affair between the Sharks and Bobcats came down to shootout heroics by Bay State's Zakary Justice and Gordon Ogden, who both scored in the breakaway contest to give their team a 3-2 win. After a scoreless first period, Nic Gustafson put New England up early in the second, before Troy Harwell equalized for Bay State. The Sharks entered the third again up by a goal, but Harwell came to Bay State's rescue with another strike late in the game to force extra time. Zack Roncarati of Bay State and Greyson Skirpan of New England were both stellar between the pipes, each stopping 46 of 48 shots in the contest, but Roncarati's two saves in the shootout pushed him ahead for the victory.
TX Brahmas 7 @ Mid Cities 0 - Levi Gho picked up a nine-save shutout in a game that heavily featured the Brahmas' offensive might on Friday, knocking off the Jr. Stars 7-0 as they forced Mid Cities goaltender Sean Guerin into 64 saves on a whopping 71 shots. Jacob Kalandyk led the charge with two goals, joining Matej Palfy, Leevi Selanne, Jack Cooper, Alec Secord and RJ Muckensturm on the scoresheet.
St. Louis 3 @ Milwaukee 4 (OT) - Teddy Marion came to the rescue for the Power after they saw a two-goal lead vanish in the final 10 minutes of regulation time to take a 4-3 win over the Jr. Blues on Friday. Mason Ausmus, Nico Piehl and Michael Dalaly had Milwaukee cruising midway through the third, easily eclipsing Joey Boccardi's lone goal for St. Louis before Jared Bratton and Trey Walton struck at 9:42 and 17:59 of the final frame to force OT. Marion's heroics sealed a 28-save win for Ewan McDevitt in the Power net, while Owen Carlson turned aside 25 of 29 shots for St. Louis.
Missoula 5 @ Helena 4 (OT) - Down by one after the first period, the Jr. Bruins roared back to take the lead in the third period, and eventually win in OT on the back of Shane Dotto's game-winner to knock off the Bighorns 5-4 on the road. Dotto also nabbed the first goal of the game for Missoula, joining Liam Bland with a two-goal night for the Bruins. Trevor Prince also scored for Missoula, who received 36 saves on 40 shots from Maxim Currie. Isaac Ellingson starred for Helena with two goals on the night, joining Dylan Ferreira and Gavyn Galloway in the goal column. Anthony Adleman stopped 37 pucks for the Bighorns.
Yellowstone 5 @ Great Falls 3 - Keegan Ferguson scored twice, Connor Carroll stopped 26 pucks and the Quake rode four unanswered tallies to a 5-3 win over the Americans in Great Falls on Friday. Max Jacoshenk, Cade Rosansky and Jack Luttringer also scored for Yellowstone, while Great Falls got two goals from Bryson Fletcher and another from Micah Serino. Trever Mellen stopped 31 pucks in the loss.
Bozeman 5 @ Sheridan 8 -The Hawks scored early and often in this one to oust the Icedogs 8-5 and extend their impressive winning streak to 23 consecutive games. Nick Wieben spearheaded their offensive efforts with two goals, with Nathan Gilleshammer, Dakota Kott, Derek Humphreys, Logan Syrup, Justin Schwartzmiller and Simon Herz lighting the lamp for Sheridan as well. Bozeman put on an impressive scoring show of its own, with two goals from Eric Thompson and a goal apiece from Blake Nerney, Kadyn Fennell and Luke McKay, but Sheridan netminder James Downie stopped 26 shots to take the win. Despite the scoreline, Icedogs goaltender Evan Wittchow put in a stellar effort in net, turning aside 51 of 59 shots in the loss.