Blizzard, Rhinos, Jr. Hat Tricks win on Sunday
January 31, 2021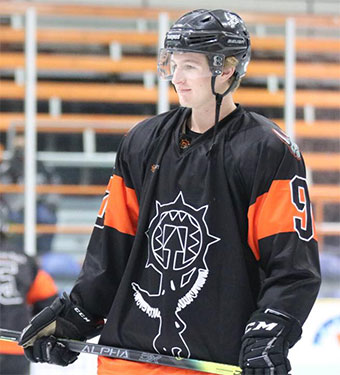 Alexandria 6 @ Granite City 4 – Caleb Strong had two goals and an assist to lead the Blizzard to a 6-4 road win in Granite City on Sunday. The Blizzard got two goals in each period, which included 1st period goals from Carter Rieland and Nikolai Rajala, 2nd period goals from Dallas Duckson and Colin Tushie and two goals in the 3rd period from Strong. The Lumberjacks got goals from Noah Bissett, Wyatt Halverson, Ben Anderson, and Sean Davidson. Joey Greilich made 34 saves in the win, while Bailey Huber (15 saves) and Brandon Shantz (9 saves) combined for the loss.
Atlanta 2 @ El Paso 3 (OT) – The Rhinos completed a three-game sweep of the Capitals thanks to an overtime win on Sunday as John Mulvihill played the hero. Things looked good for the Capitals early as they took a 2-0 lead in the 1st period with a pair of power play goals from Eddie Slack and Gunner Moore. The Rhinos mounted their comeback late in the 2nd period as Jacob Robinson scored to make it 2-1. Mulvihill then tied the game early in the 3rd period to make it 2-2. Three minutes into overtime, Mulvihill ended the game with his 17th goal of the season and second of the game to complete the comeback win. Rustam Kulizade made 24 saves in the win, while Matthew Genter made 34 saves in the loss.
Jr. Hat Tricks 3 @ Bobcats 2 – Jr. Hat Tricks goalie Nathan Hadley had a career game, making 58 saves in a 3-2 win on Sunday. The Jr. Hat Tricks took a 1-0 lead in the 1st period thanks to a goal from Matti Tauriainen. The Bobcats responded early in the 2nd period with a goal from Zakary Justice to make it 1-1. The Hat Tricks regained the lead later in the period with a goal from Connor Lefkof. Midway through the 3rd period, the Bobcats tied the game again as Karl Nordin scored to make it 2-2. With under four minutes remaining, Tauriainen struck again to give the Hat Tricks the 3-2 win. Zack Roncarati made 27 saves in the loss.