Friday Finals: Winning streak continues for Drillers
February 6, 2021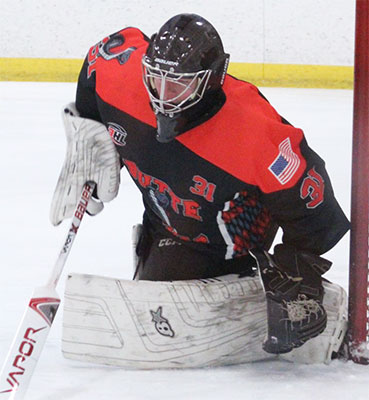 TX RoadRunners 0 @ Louisiana 5 - Kyle Karoleski stopped all 30 shots he faced and five different Drillers got on the scoresheet as Louisiana cruised past the RoadRunners for a 5-0 win at home. Brandon Morgan, Frank Steinway, Jack Lambert, Mark Kurliandchyk and Josh Hrip provided the offense in this one. RoadRunners goaltender Jaxon Taylor finished with 31 saves.
New England 7 @ Bay State 3 – In his NA3HL debut, George Fomin's five-point (2g, 3a) performance highlighted a rampant Sharks offense as they toppled the Bobcats 7-3 on Friday. Aleksandr Gamzatov and Matthew Anastasio each tallied twice as well for New England, with Mason Mulneaux potting one of his own. JayVon Fogelgren scored twice for Bay State, joining Ronnie Bregante in the goal column. Greyson Skirpan picked up the win between the pipes with 29 saves for New England, while Nathan Moffitt and Zack Roncarati combined for 26 saves in the Bobcats' cage.
Oregon 4 @ Milwaukee 3 - Down by three entering the third period, the Tradesmen came alive in the final frame to erase that sizable deficit with four unanswered goals and take a 4-3 win over the Power. After Maxwell Erstad, Ben Cremers and Tyler Nelson had the hosts ahead through 40 minutes with a goal apiece, Oregon got a pair of goals in just over 30 seconds from Parker Severson and Jacob Best midway through the third, then two more just 90 seconds apart from Sam VanderHoeven and Carter Waters to seal the comeback win later in the frame. Hunter Adams made 20 stops for the win, while Ewan McDevitt turned aside 36 for Milwaukee.
Sheridan 6 @ Gillette 4 - The Hawks' juggernaut rolled on Friday, picking up a 6-4 win over the Wild in Gillette to make it 25 straight victories. Logan Syrup, Jacob Cummings, Blake Billings, Dakota Kott, Nick Wieben and Derek Humphrey grabbed goals for Sheridan, while Luke Fundator and Christian Wong-Ramos held down the fort with 36 saves in the win. Austin Newson led Gillette with two goals, and Carson Kuche and Tristan Baker tallied as well, but it was Cole Wheaton catching attention in the crease with a stellar 54-save effort, despite the scoreline.
Yellowstone 1 @ Butte 6 - Cobras goaltender Tommy Near was on another level on Friday, following up a string of outstanding performances with a stunning 62-save effort to help his team to a 6-1 win over the Quake. Nick Bradshaw, Zane Cluphf, Randy Yeakley, Kyler Garsjo, Jonathan Schoof and Tamer Billman lit the lamp at the other end of the ice for Butte, while Aiden Croce netted the lone Yellowstone marker. Quake goaltender Connor Carroll was impressive as well in this one, stopping 42 of 47 in the loss.
Springfield 2 @ Northeast 3 - Tyler Ramm's goal with under five minutes to play in the game broke a 2-2 deadlock and served as the game-winner, pushing the Generals past the Jr. Hat Tricks 3-2. Jacob Kosinski and Nicklaus Obourn put Northeast ahead by a pair just under 25 minutes into the game, but Nikita Kovalev struck for a pair of goals within minutes of either side of the second intermission to knot things at two until Ramm's late strike. Each team's goaltender was steady, with Northeast's Espen Reager stopping 35 for the win and Springfield's Trey Hirschfield turning aside 40 in the loss.
El Paso 6 @ Atlanta 3 - After seeing a two-goal lead evaporate midway through the third period, the Rhinos rebounded with three unanswered goals in the final six minutes to knock off the Capitals 6-3 on the road. Colin Kerchoff tallied a pair to lead El Paso, with Noah Decker, Cole Schneider, Barak Braslavski and Jacob Robinson rounding out the team's scoring and Rustam Kulizade stopping 33 pucks to backstop the win. For Atlanta, Chris McClorey, Gunner Moore and Andrew Raburn each found twine, while Matthew Genter kept his team in the contest with a whopping 51 saves between the pipes.
Mid Cities 1 @ Oklahoma City 16 - The Blazers were once again at their high-flying best on Friday, riding a hat-trick from Tyler Larson, two-goal efforts from Artem Korolev, Noah Henslee, Noah Roitman and Tristan Rand, and a strong effort from Jacob Ahl in goal to a stunning 16-1 win over the Jr. Stars. Gabe Shipper, Michael Onda, Richard Indermill, Carter Eha and Tucker Lien also scored for OKC in the rout, with other highlights coming from Peter Philippov (5a), Anthony Rodriguez (3a) and Patrick Wyers (3a). Thomas Srsha grabbed the only Mid Cities goal to break up the shutout bid late, while Zach Herron and Nahuel Veyan combined for 32 saves in the Stars' net.
New Ulm 1 @ Alexandria 4 - Cole Jacobs' 2g, 1a outing fueled a stout Blizzard effort at both ends of the rink to top the Steel 4-1 on Friday. Andrew Revering and Dallas Duckson also scored for Alexandria, while Zach Maillette posted the lone Steel tally. Bailey Rosch finished with 27 saves in the win, outmatching Zach Foster's 24 stops for New Ulm.
Peoria 5 @ Wausau 2 - A four-goal first period provided enough fuel for the Mustangs to take the win in this one, ousting the RiverWolves 5-2 in Wausau on Friday. Christopher Kondiles, Reid Lune, Thomas Kayner and Heath Drye helped Peoria to an early 4-1 lead, with Ethan Chesney netting their fifth in the second period. Ethan Cumming continued his strong start to life in the NA3HL with a first-period goal for Wausau, and was joined by Trey Bociek in the goal column later in the contest. Andrew Doran made 25 saves in Peoria's win, while Caleb Sauer stopped 27 shots for Wausau.
Granite City 5 @ North Iowa 7 - A back-and-forth battle between two West Division heavyweights went down to the wire, as the Bulls erased a 4-3 deficit with a four-goal third period to edge out the Lumberjacks 7-5 at home on Friday. Sota Isogai (2g) and Kyle Heffron (3a) led the Bulls' charge on offense, with Max Savaloja, Carson Jones, Caden Smith, Hayden Fox and Caleb Huffman each chipping in goals as well, and Evan Babekuhl combining with Max Gutjahr for 21 saves and the win. Tucker Skime, Cody Dias, Hanson O'Leary, Nicholas Richert and Braeden Bartoo lit the lamp for Granite City, who received 29 saves from Bailey Huber in net.
Helena 4 @ Bozeman 3 (OT) - Isaac Ellingson scored at 2:49 of overtime to cap off a Bighorns comeback and give his team a 4-3 win over the Icedogs on Friday night. Gavyn Galloway, Nick Cofer and Andrew MacCallum also netted for Helena in regulation time, and Anthony Adleman backstopped the win with 30 saves through 62 minutes. Kamden Sengheiser posted two goals for Bozeman, while Dylan Fontaine potted a goal of his own to help their team force the extra frame. Evan Wittchow was strong between the pipes despite the loss, stopping 41 of 45 shots along the way.